These home owners we're ecstatic about their new purchase of their old Rockliffe Park home. But buying an old home meant that renovations we're to be involved, especially in the kitchen area. The home owner's dreamed of having a very classical style kitchen that would accommodate their growing family.
The home located in Rockliffe Park, one of Ottawa's most prestigious and historical neighborhoods, had some small issues. During the renovation process wooden beams we're found molding in the ceiling because of an apparent leak. The renovator had to replace the wooden beams and patch the leak to prevent further mold from growing.
The main aspect of having this kitchen renovated was to have an open concept where the family could easily interact, therefore the renovator decided to create the eating and cooking area on the same counter.
The lower part of the countertop holds a large gas-powered cook top and hood vent which overlooks an elevated part of the counter to accommodate long stools and  eating area. A built-in microwave and oven makes this new space look very sleek.
Very obscure countertops with a very pale brick pattern backsplash tile gives the room the classic look the home owner's we're looking for. Finally very light cabinets finish the room to match the light yellow paint color on the walls.
A large wooden dinning room table was placed in front of a sliding patio door to finish the decor. The old home now held a new kitchen that matched the neighborhood's style.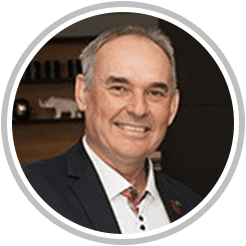 John Liptak is CEO and President of OakWood, an Ottawa-based renovation company. Established in 1956, OakWood is a fourth-generation family run business. Under John's leadership, OakWood has grown to become Ottawa's largest and most established full-service renovation business and Ottawa's first and only Mike Holmes approved renovation partner. A winner of numerous awards, OakWood has been voted Ottawa's Best Home Designer and Renovation company every year since the Consumer Choice awards were introduced in 2007. The new Design Centre and Showroom received the 2017 Best Design Centre in Canada award from the Canadian Home Builders' Association.