While somewhat tired and dated, these homeowners still loved their period home. Unfortunately, with a growing family the house no longer met their needs. It was dark, compartmentalized, and dysfunctional. It was time to move, which they did not consider an option, or renovate. So they called OakWood to start the design process. The front foyer was enlarged to allow for more room for this family on the go. The existing front door was original to the house and had a beautiful stained glass window in the centre.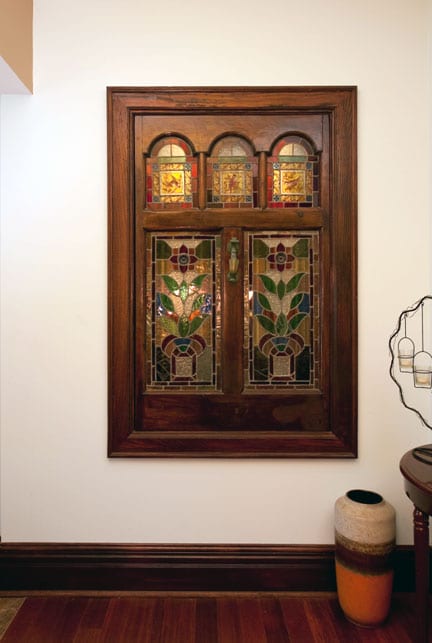 While the door itself needed to be updated the homeowners wanted to keep the original stained glass window and somehow incorporate it into the renovation. The final design added the window into the new entrance wall. Backlighting has transformed this into a piece of art that now stands out even more. The dining room and kitchen walls were opened up to allow for a large open concept space. The existing dining room glass French door was also a period piece which the homeowners wanted to keep. Since this matched the living room door perfectly, OakWood's design team recommended that they open up the existing single door entrance to the living room with a grand, double door entrance using the dining room French door.
Double doors open up entry ways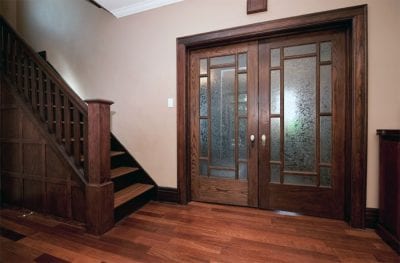 As the photo shows, the addition of a double door entrance made the living room feel more a part of the dining and kitchen area when the doors were open but it still allowed for the living room to be a separate space. The wood stairs were sanded and re-stained.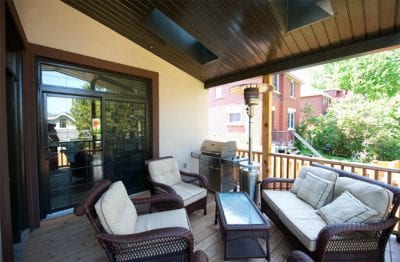 A back addition allowed for a much larger kitchen to be designed as well as a covered porch and valuable usable basement space.
With the L-shape of the kitchen and dining room, the covered porch was able to be tucked in against the home in a way that allowed for a double set of doors to corner into the kitchen and dining room. This introduced lots of natural light and made the new outdoor space feel connected to the inside area.
A big celebration
The homeowners loved the end result! In fact, they arranged for a party after the renovation was completed to thank the OakWood teams that made their home what it is today.
Small world
We also discovered after the project was complete that the home was previously owned by the wedding photographer of OakWood's owner some 30 years earlier. What a small world after all!