New technology in energy-efficiency for homes
OakWood beta tests advanced new technology for reducing a home's energy requirements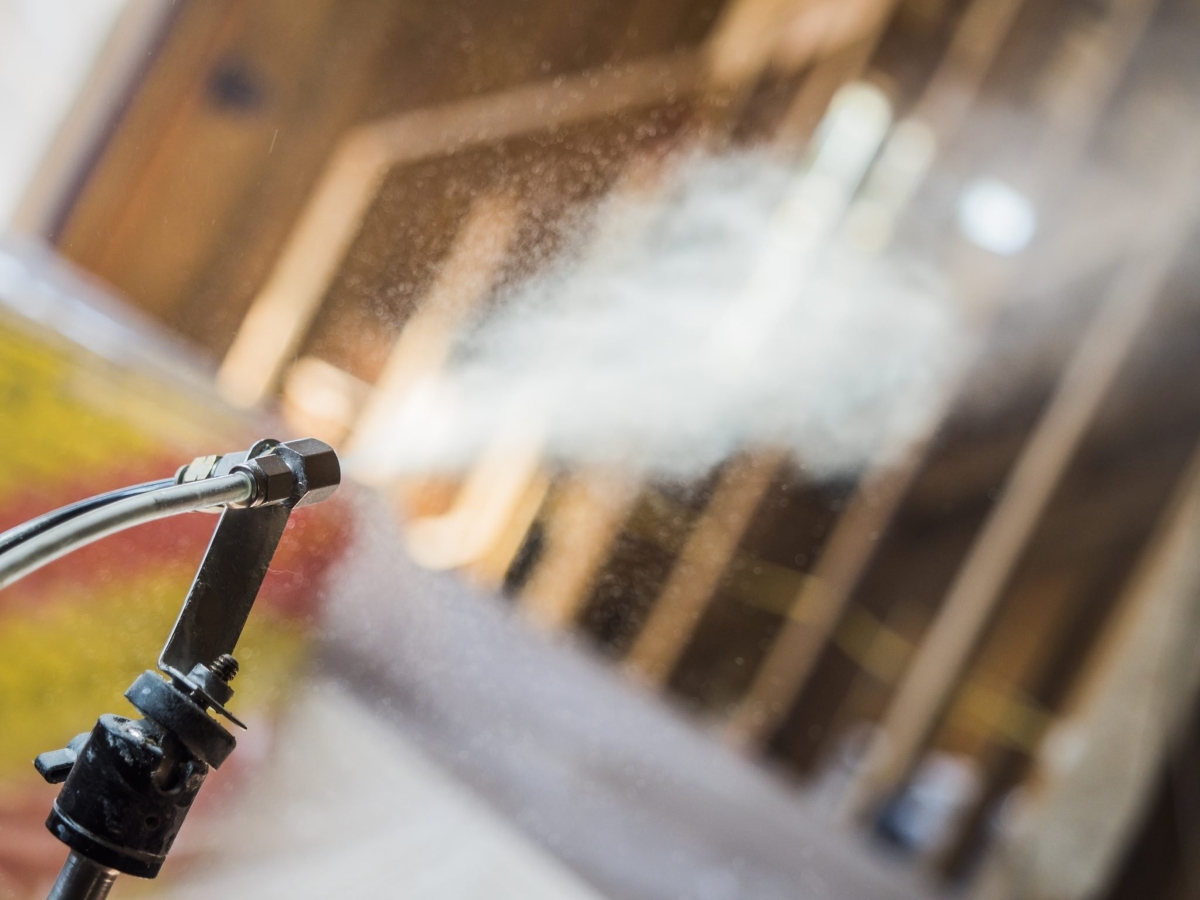 This past March, OakWood sent a small contingent to the International Builders' Show in Las Vegas – the largest event of its kind in North America. We teamed up with Mike Holmes to check out the most innovative and advanced building solutions available for residential and commercial construction.
AeroBarrier stands out
One of the many solutions that stood out was AeroBarrier, a new, advanced envelope sealing technology. AeroBarrier is a mist that seals holes up to half an inch wide down to the tiniest holes with no off-gassing or harmful volatile organic compounds (VOCs).
By creating an airtight building envelope, AeroBarrier dramatically lowers energy costs for heating and cooling a home – and increases comfort by eliminating drafts.
Plus, AeroBarrier claimed the process was quick to apply, seamless in scheduling, and economically feasible for homeowners. Among many other solutions we saw at the Show, this one looked like a potential game changer and a perfect addition to OakWood's High Performance solutions for creating healthy, energy efficient homes. 
A decision to beta-test
We returned from Las Vegas keen to beta-test AeroBarrier's technology on a new custom home as quickly as possible. We looked through our current client list to find someone who wanted to take a big step towards making their home more energy efficient and perhaps interested in a solar energy solution down the road.
Fortunately, we didn't have to look far. OakWood was nearing completion on construction work of a new 6,500+ ft. custom home on an estate lot in Dunrobin.
Timing is an important consideration
The AeroBarrier sealing mist sticks to any horizontal surfaces. So the best time to use it is when all mechanical work is finished and before insulation.
The second best time is after drywall and well before any finishing materials are installed. Specifically flooring, counters, cabinets, railings, toilets, and any millwork or other horizontal materials that could get coated by the spray.
For this reason, it's much more challenging to use AeroBarrier on an existing, finished home – even though the sealant mist has zero harmful VOCs. So the timing on the Dunrobin custom home was perfect.
Fortunately our client was also happy to have OakWood test AeroBarrier on their beautiful new home. Working with Airtight Home Technologies for the implementation and test, here's how the process went and what we learned.
Site selection: a beautiful custom home by OakWood with all major construction completed – the ideal time for testing AeroBarrier.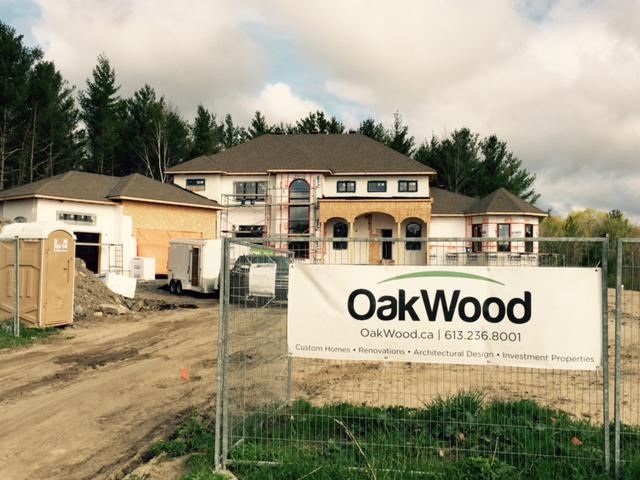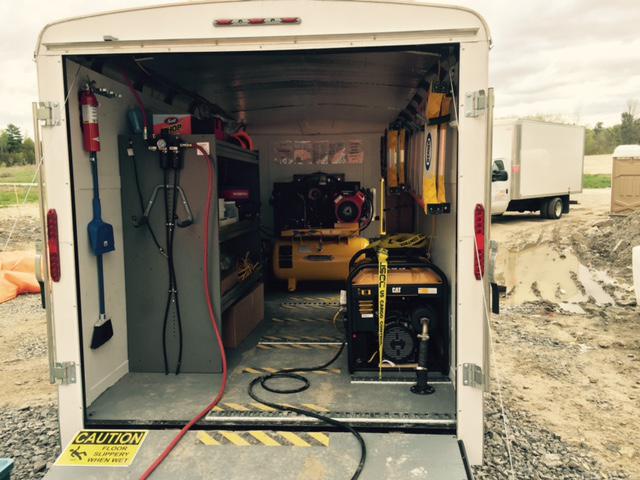 Have equipment, will travel: all equipment is portable and conveniently transported to the construction site by trailer. Equipment includes a compressor, generator, door blower, and AeroBarrier spray machine.
Thinking like air: the home gets prepped by Airtight Home Technologies. This includes taping and covering all surfaces that won't get sealed by the spray.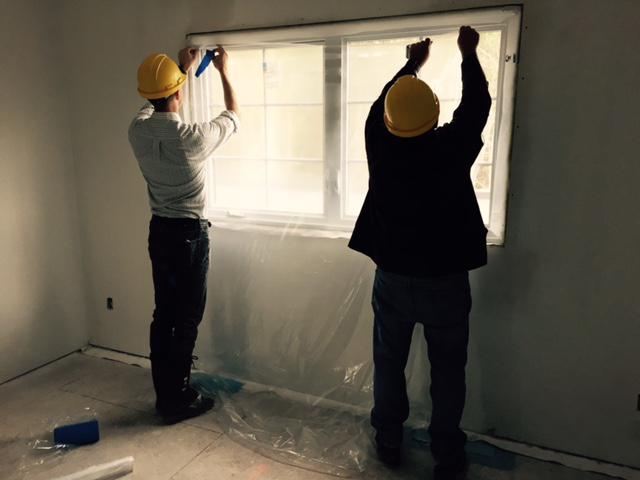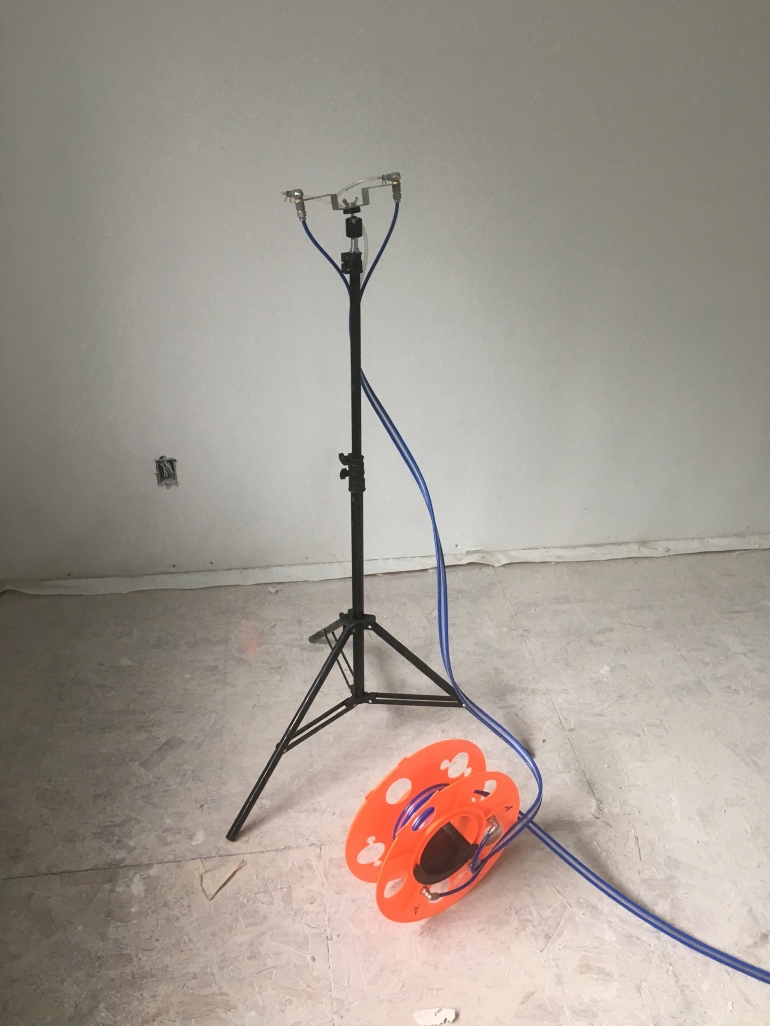 Sprayers: preparation includes setting up sprayers on tripods in each room to be sealed. Once activated from outside, two nozzles spray a sealant mist into a pressurized space. Each tripod has three lines – two for air pressure and one for sealant.
A blower door is used to pressurize the home: sealant will find any holes or gaps – automatically closing them to create a more airtight building envelope.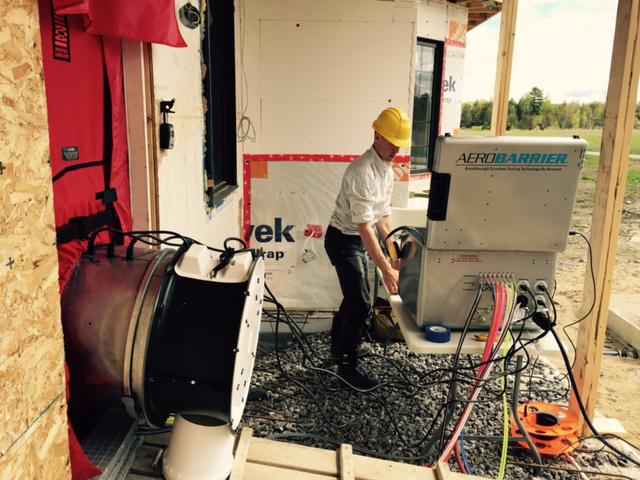 Real time data: everything is controlled and analyzed by a computer that reads sensor data including temperature, humidity, and distribution of sealant from each tripod sprayer.
Air Changes per Hour is the key performance metric
A home that's built to higher performance standards has a lower number of Air Changes per Hour (ACH). A low ACH means less energy is required to operate the home. Conversely a home with a higher ACH has greater energy demands.
The purpose of OakWood's test using AeroBarrier's technology was to determine what our ACH start point was – and how low we could get it after using the technology.
Net-Zero homes – a new performance standard
OakWood's short-term goal is to provide Energy Star certification as a standard feature on every custom home – and is researching to see if the new Net-Zero program is a viable option to make standard. A Net-Zero Home produces as much energy – clean, renewable energy – as it consumes and provides exceptional comfort all year round. Airtight sealing and solar panels are a key part of the strategy for making that happen.
Looking ahead to Net-Zero home certification, using AeroBarrier would significantly reduce the number of solar panel required, and in so doing offset the cost of the AeroBarrier installation. There's a direct correlation between a lower number of air changes per hour (ACH) and fewer solar panels required.
If the test results in Dunrobin are successful, it means OakWood could significantly lower the investment required by clients to achieve Energy Star performance certification and a net-zero home.
First test establishes an ACH baseline
The first test on the Dunrobin executive home established a baseline of 3.10 Air Changes per Hour. OakWood holds itself to a very high standard of construction and we were hoping for a much lower starting ACH. However, Airtight Home Technologies' architect and computer operator Mark Rosen explained that ACHs of 6 or 7 were average.
Second test following sealant distribution
Following the spray sealant, the second blower test confirmed a dramatically lower ACH of 0.77 – a 75.3% reduction in Envelope Leakage achieved with a modest investment in advanced sealing technology.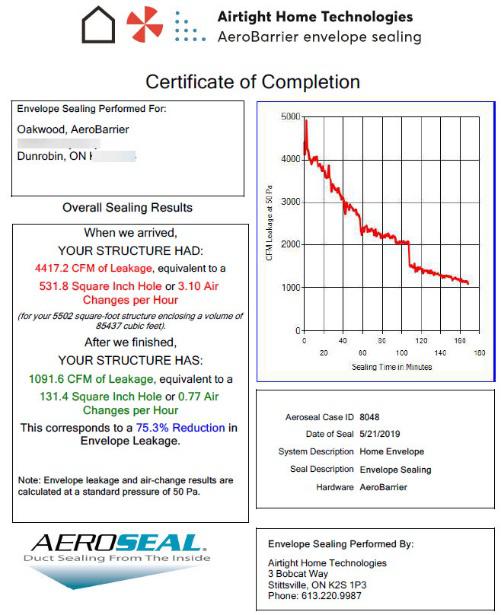 Test results reveal major opportunities
For OakWood, this pilot beta-test was an important learning opportunity. We gained valuable insights on specific design and build considerations for improving on construction practices that already exceed code requirements. These will be factored into our design for future custom homes, even if energy performance and a reduced carbon footprint is not an explicit goal of homeowners.
However, for any homeowner looking for Energy Star, net-zero certification or a higher level of home performance, AeroBarrier should be an important consideration. Going forward, OakWood is now considering AeroBarrier as a standard feature on all new custom homes.