Here's a familiar story of a homeowner who absolutely loved the neighbourhood and area she had been living in for years. The actual home? Not so much! Instead of moving, she decided to stay and renovate – and make her retirement dream home.
Relocating the garage creates big opportunities
Like many homes from this period, the garage was pushed to the back of the house and took up way too much of the backyard views. And it was ugly!
After listening to our client's ideas and vision, OakWood proposed a new design that relocated the garage to the front of the house. This change created a domino of immediate opportunities to take advantage of new space and a more efficient layout.
For starters, bedrooms were relocated and the back right corner of the house was converted into a new living room.
A new patio door was added to the living room which now opens up to the backyard – a wonderful feature that was not possible with the original layout.
Most non-load bearing interior walls were also removed to create an open, inviting, airy space.
Make the front door – a real front door!
The main front door was proudly redesigned to give access from the front of the house instead of the previous, awkward side entrance.
A new powder room was added at the front of the house which eliminated the need for guests to use the homeowner's personal washroom!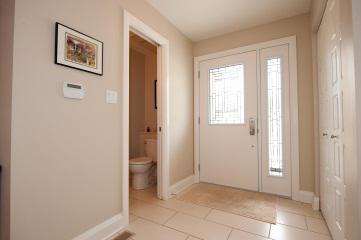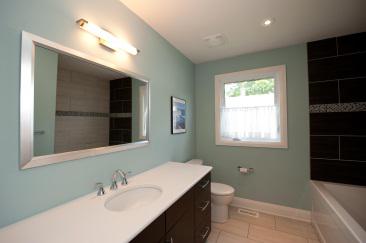 Three-Piece Bathroom
A new three-piece main bathroom was incorporated with a unique shower/tub tile surround. Several different tiles were used in different chic colours to create a creative and dramatic effect.
A state-of-the-art kitchen
A bold new open concept kitchen and dining room now take up the middle section of this renovated home.
A stylish stainless steel hood fan takes centre stage and is situated between rich, dark wood cabinets.
Gleaming hardwood runs throughout most of the home connecting all areas.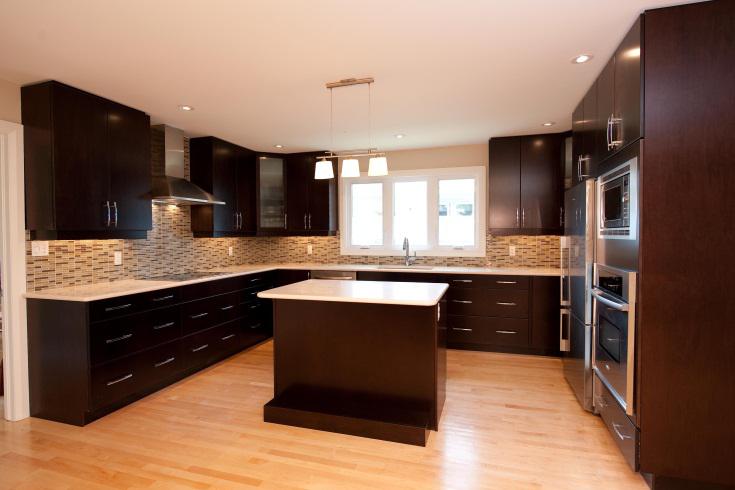 Nicely updated exterior
New exterior doors, windows, stone work and stucco completed the magic makeover giving this tired property an updated polished look.
The end result is a gorgeous, nicely updated bungalow that fits into the community while giving the homeowner a space to enjoy for years to come.
Patricia Liptak-Satov, OakWood, COO.
Patricia is dedicated to improving OakWood's approach and introducing new methods to ensure a responsive, customer centric company that exceeds client expectations.