Building Success Across Industries
OakWood stands as Ottawa's premier and most renowned Design & Build firm, boasting an extensive track record of success in the construction and design industry. Their expertise spans a diverse spectrum of sectors, making them the go-to choice for a wide variety of projects, ranging from renovations and restorations to new constructions. With a well-earned reputation for excellence, OakWood is deeply committed to meeting the specific requirements and demands of their commercial clientele. Their unparalleled proficiency in design and construction allows them to provide tailored solutions across an impressive array of industries and sectors, solidifying their status as a trusted partner for clients seeking top-tier services in the Ottawa region. Whether it's revitalizing heritage buildings, creating cutting-edge co-working spaces, or constructing state-of-the-art medical facilities, OakWood's comprehensive capabilities ensure that they remain a true one-stop solution for a wide range of commercial development projects.
Their extensive capabilities encompass a wide array of sectors and projects:
Car Dealerships
OakWood specializes in creating cutting-edge, functional spaces for car dealerships, enhancing the customer experience.
Condominiums
Their commercial expertise meets the high standards of modern condominium developments.
Convention Centers
OakWood excels in creating dynamic, event spaces that serve as hubs for large-scale events and gatherings.
Co-working Spaces
Flexible and collaborative co-working environments to cater to the evolving needs of businesses.
Educational Institutions
OakWood contributes to the development of educational facilities, providing conducive spaces for learning and growth.
Entertainment Venues
OakWood designs entertainment venues that captivate audiences and provide immersive experiences.
Fitness Centers
They build fitness centers that promote health and well-being, featuring state-of-the-art equipment and designs.
Heritage Buildings
OakWood's restoration expertise shines in preserving and revitalizing historic structures.
Hospitality Establishments
They create inviting and comfortable spaces for hotels, resorts, and other hospitality businesses.
Industrial Parks
OakWood contributes to the development of industrial parks, supporting economic growth and innovation.
Medical Facilities
They provide solutions for healthcare institutions, focusing on functionality, safety, and patient care.
Mixed-Use Developments
OakWood designs and builds mixed-use developments that combine residential, commercial, and retail spaces.
With their versatility and proficiency, OakWood serves as a one-stop solution for an extensive range of commercial development projects, consistently meeting the unique needs of various industries and clients.
Introducing OakWood Commercial Development
Your Vision, Our Commitment
Are you ready to elevate your commercial property development experience? Look no further than OakWood Commercial, where your unique business needs take center stage. Here's why you should choose OakWood for your next commercial project:
Tailored Customization
We understand that your business is one-of-a-kind. That's why we offer complete customization options, empowering you to build solutions that align perfectly with your specific needs. Our experienced team collaborates closely with you to turn your ideas into reality.
Uncompromising Quality
Quality is our cornerstone. We exclusively use top-tier materials, employ skilled trades people, and maintain stringent quality control measures at every stage of construction. Every detail matters to us, ensuring that your project not only looks stunning but also endures the test of time.
Personalized Excellence
Building a commercial property should be enjoyable and stress-free. Our dedicated team provides you with personalized attention, guiding you through every step of the process. From initial consultations to the final walk-through, we are here to address your questions and concerns, ensuring your complete satisfaction.
Energy Efficiency
Sustainability is a priority. Our team will assist you in incorporating eco-friendly features that reduce your carbon footprint and save you money on utility bills, all while contributing to a greener future.
Trusted Partnerships
Rely on our extensive industry experience and strong relationships with reputable suppliers and trade partners. This network grants you access to premium products and materials, guaranteeing the highest quality finishes for your commercial project.
Transparent Process
We believe in transparency. From the initial estimate to the final invoice, we provide clear and detailed documentation, ensuring you are fully aware of all costs and can make informed decisions. With open communication, you remain in control of your project every step of the way.
Discover the OakWood Commercial Difference
Choose OakWood Commercial, and together, we will transform your vision into a remarkable reality. Your business's distinct character and needs will be our focus, all while upholding the highest standards of craftsmanship and sustainability. Join us on an unforgettable journey toward a successful commercial property, where your dreams meet reality.
Practicing What We Preach
Since 1956, OakWood has steadfastly upheld our commitment of delivering excellence to our clients. The OakWood Design Centre and Corporate Headquarters stand as a testament to our unwavering dedication to exceptional craftsmanship and innovation. It embodies our creative approach to building for a sustainable future, incorporating cutting-edge technology into a state-of-the-art facility.
Serving as a beacon of Design & Build and a model for commercial construction, our 22,000 sq. ft. head office proudly exceeds the LEED Platinum standards by the Canada Green Building Council. This remarkable achievement reflects our enduring dedication to reducing our carbon footprint and integrating sustainable practices into all facets of our operations.
 The OakWood headquarters boasts a modern design that artfully blends glass, steel, stone, and both new and reclaimed lumber. Its captivating appearance stands as a testament to our commitment to showcasing distinctive and innovative designs.
OakWood's Design Centre and Corporate Headquarters embodies our promise to practice what we preach. Through the seamless integration of sustainability, cutting-edge technology, and innovative design, we exemplify our commitment to providing unparalleled quality and craftsmanship while minimizing our environmental impact. Leading by example, we inspire others in the industry to join us on the journey towards a greener and more sustainable future.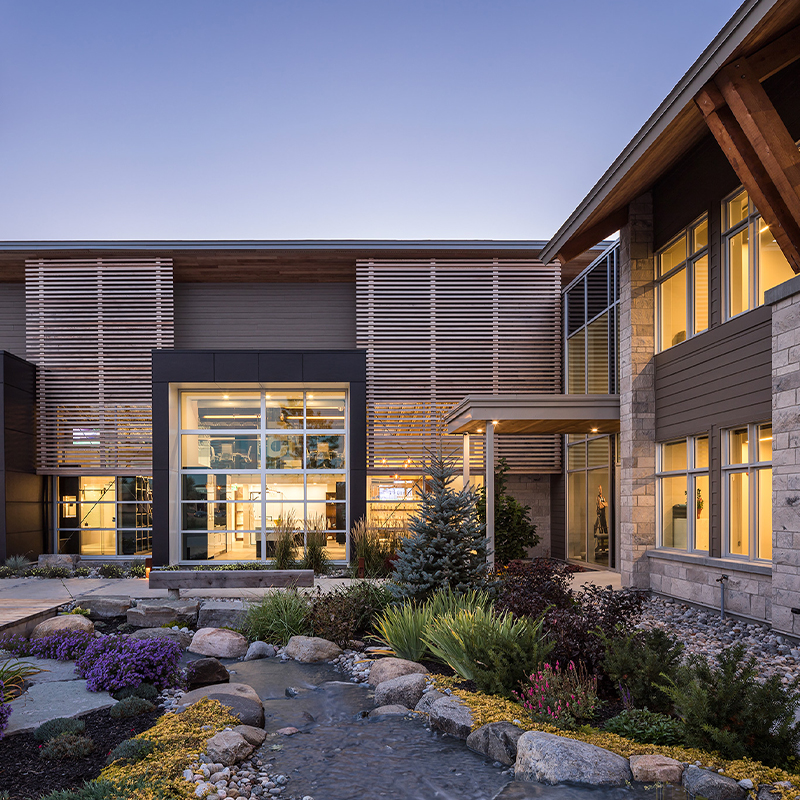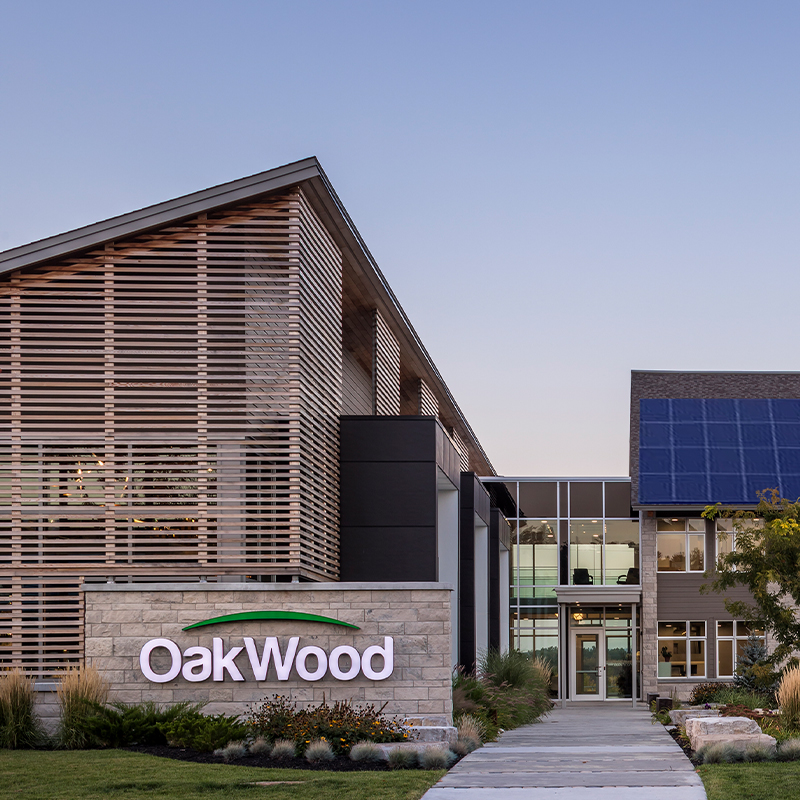 As a Net Zero Qualified company, we prioritize environmentally responsible construction practices. Our team is dedicated to meeting and exceeding the stringent standards set by the Ontario Building Code, ensuring that every commercial project we undertake is built with the utmost care for the environment and the community.
Our expertise in sustainable construction is exemplified by our LEED designs, demonstrating our commitment to eco-friendly practices in the commercial sector. However, we don't stop there. With in-house and partner experts who possess a deep understanding of green building principles, we can also pursue Net Zero and Passive Building Designs to elevate the sustainability of our commercial projects even further.
When it comes to commercial construction, OakWood stands apart as a company that is not only dedicated to building remarkable structures but also to making a positive impact on the environment and the community. With OakWood as your construction partner, you can trust that your commercial project will be in the hands of experts who are committed to delivering excellence in every aspect.
OakWood's Suite of Services
Let's Talk About Your Commercial Project Today
Book a complementary, no obligation consultation
Let's get started with a call. Or schedule a complementary, no obligation consultation with one of our expert Project Consultants now—and receive a detailed QuickQuote™ for your project.