OakWood: A Legacy of Craftsmanship and Innovation in Design & Build
An Illustrious History Spanning Four Generations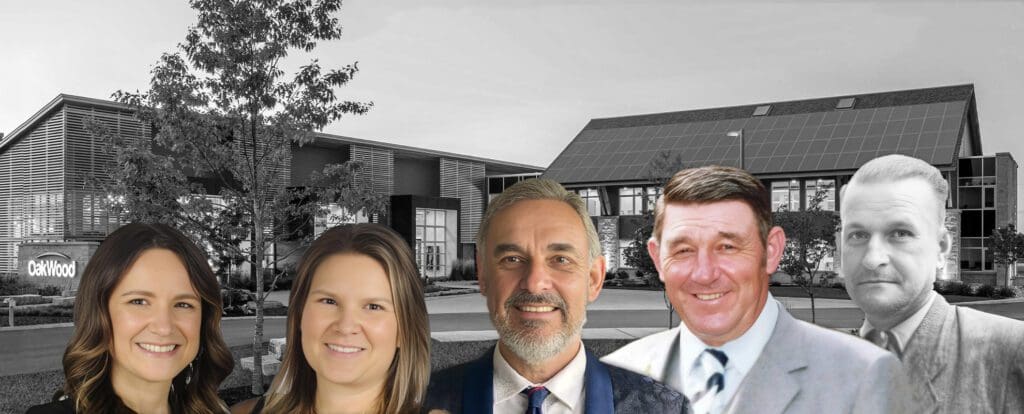 The Legacy and Evolution of OakWood Design & Build
The Founding and Early Years
OakWood is a distinguished, family-run Design & Build business, boasting an illustrious history spanning four generations. Founded in 1956 as a humble carpentry and renovation venture, the company has evolved over the years to be Ottawa's most recognized name in Design and Build.
Transition to Modernization and Innovation
The origins of OakWood trace back to John Liptak, a highly skilled Master Carpenter and Cabinet Maker from Germany in the early 1900s. Passing down his expertise to his son, John Liptak II, the family's carpentry legacy was carried forward. In the mid 1900's, John Liptak II made the move to Canada, bringing along his exceptional work ethic and specialized carpentry skills. Sensing the demand for skilled labour, he expanded the business, venturing into the realms of home renovations and custom home building. In 1956, OakWood was founded and continues to uphold this proud legacy.
A New Generation Takes the Helm
John Liptak III, the founder's son, grew up immersed in the construction industry, learning the ropes from a young age by working with his father. Becoming a visionary entrepreneur, he combined traditional building practices with cutting-edge computer technology. Today, as the President and CEO of OakWood, he has successfully modernized the company while staying true to the values of old-world craftsmanship.
Leadership and Expertise: Patricia and Angela
The legacy of OakWood now continues with the active involvement of the next generation of Liptak's. Patricia Liptak-Satov, the founder's granddaughter and COO of OakWood, is dedicated to refining approaches and incorporating innovative technologies, ensuring a client-centric approach. Meanwhile, Angela Mallon, also granddaughter and sister of Patricia, is the CFO of OakWood, skillfully manages the company's financial resources and overall well-being, bringing her professional insight to the family business.
Preserving Old-World Craftsmanship
As the fourth generation actively involved in the family business, Patricia and Angela are key figures in leading OakWood into the future. Their contributions build upon the established legacy and bring fresh perspective and modern insight to the company.
Patricia Liptak-Satov: A Visionary COO
Patricia Liptak-Satov, as the COO, possesses a passion for construction and a commitment to enhancing processes, which have been instrumental in driving the company's success. With a Bachelor of Arts in Law and a Minor in Business, she possesses a well-rounded skill set, enabling her to handle the operational aspects of the business effectively. Patricia's forward-thinking vision and client-centric approach have been pivotal in propelling OakWood into the future.
Angela Mallon: CFO and Growth Strategist
Angela Mallon, as the CFO, utilizes her expertise as a Certified Management Accountant (CMA) to manage the company's financial resources and ensure its stability. Her strategic decision-making skills contribute to OakWood's managed growth and sustained success in the Design and Build industry.
Diversity and Inclusivity in Construction Leadership
Both Patricia and Angela represent an exciting chapter in OakWood's history, as they bring modern insight and a fresh perspective to the company. As female entrepreneurs in a traditionally male-dominated industry, they are also leaders, spearheading the movement towards greater diversity and inclusivity in the construction sector.
Upholding Craftsmanship and Satisfaction
The dedication, passion, and work ethic instilled in Patricia and Angela by their father and previous generations have been pivotal in their natural evolution into leadership roles within OakWood. Their active participation ensures that the family's commitment to craftsmanship and customer satisfaction remains unwavering, solidifying OakWood's position as an emblem of excellence and a trusted name in Ottawa's Design and Build industry.
Awards and Recognition: OakWood's Industry Reputation
Throughout its history, OakWood has earned an outstanding reputation for innovation and unmatched quality, garnering numerous industry awards and consumer accolades. The company's dedication to construction excellence and unwavering commitment to customer satisfaction has been deeply ingrained in its DNA, making it an esteemed symbol of craftsmanship and trust in Ottawa's Design and Build industry.
Let's Get Started
Whether you're planning a renovation, custom home, new commercial building or a handyman project, your next step is to talk with a qualified OakWood Project Consultant.
Let's get started! Schedule a call or your onsite visit at the OakWood Design Centre