Download your FREE insider e-report now
Avoid Renovation Disaster
How to AVOID SCAMMERS…and Get a BEAUTIFUL RENOVATION with "No Surprises"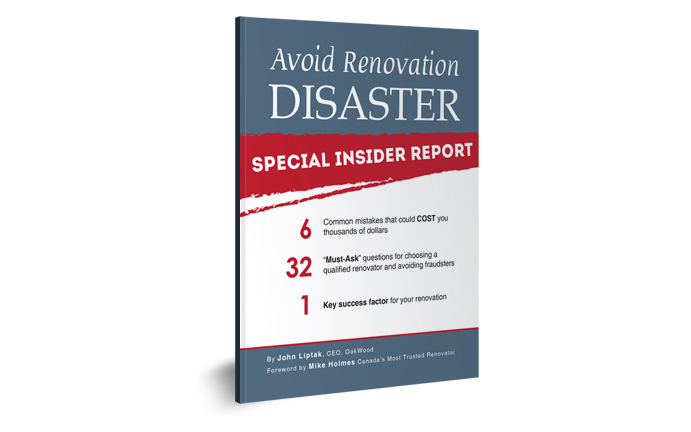 This special insider e-Report from John Liptak, CEO and President of OakWood, reveals the unvarnished truth about the renovation industry and the sleazy tactics used by some unqualified and dishonest renovators to win your business. This report is not for the faint of heart. Some of the tactics will surprise you. The renovation horror stories may shock you. Whether you choose to make OakWood your renovator of choice, the insight and information presented here will enable you to sort the wheat from the chaff and hire a qualified renovator who will not let you down.
Download this free e-Report now to discover:
Why the lowest price often costs you the most
What your renovation quote must include to avoid surprises
How to really check a renovator's references
The importance of a renovator's financial stability and how this can affect you
What is a reasonable deposit amount and what else you should expect to get?
32 "must-ask" questions for choosing a qualified renovator and avoiding fraudsters
The #1 key success factor for your renovation
Written from the heart in plain language, this report is a response by John Liptak to the countless calls that OakWood receives every year from distraught homeowners who ran afoul of bad or dishonest renovators.
Many paid thousands more to fix or redo the work. All experienced emotional distress and asked: "What could I have done to avoid this renovation disaster?"
The answers are here.
And they are simpler than you think. By asking the right questions at the beginning of your project, you will hire a qualified renovator who will do your project right: high-quality with no surprises or extra costs at the end. Download your free e-Report now by completing the form fields on the right. 
"This report lays it all out for you, so you can be smart, hire the right pro and get a renovation done right the first time."
– Mike Holmes
Privacy policy:
OakWood's privacy policy is simple. If you share any personal contact information with us by completing our contact form, taking a survey, downloading content, or in any other way, we will not share this information with any other company or individual.