With over 65 years of experience, the OakWood Team
will not let you down.
A large renovation involves a major restoration, structural change or "gutting" most or all walls back to the studs. Large projects are always complex and require a complete, customized Design & Build solution to address the many engineering, planning, and design challenges that can arise when completing this type of project.
OakWood's one-stop solution for large renovations includes: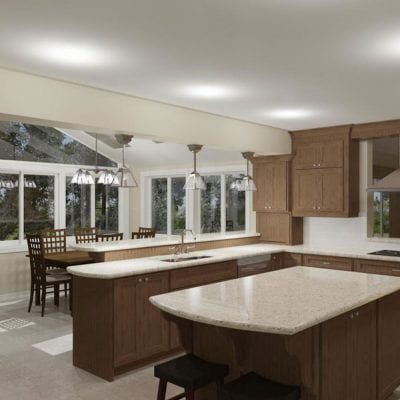 In-House Architectural Design
In-house architectural design & planning experts to help you develop a vision that's supported by a detailed, construction ready plan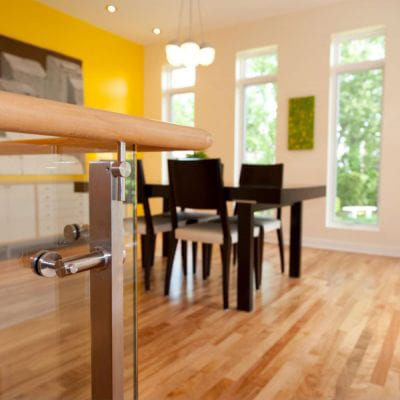 Energy Saving Options
Choose energy efficient materials including windows, insulation, lighting, wall & flooring solutions and many green options through our award-winning Design Centre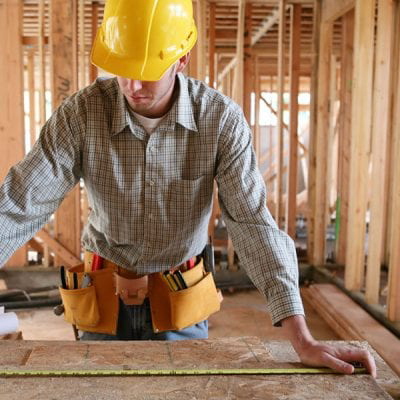 Turnkey Installation
Turnkey Installation by OakWood's certified trade professionals including site preparation and extensive precautions to protect your home
Expert Project Management
Expert project management with one point of contact including client portal updates and on-site meetings to keep you informed and your project on budget
All work is done by specialized OakWood approved kitchen experts. Work and materials are backed by an industry leading warranty.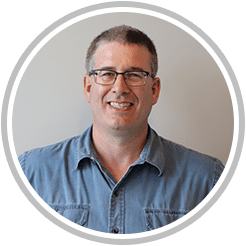 "A large renovation project creates important opportunities for choosing green options and dramatically improving the energy efficiency of your home with our High Performance solutions."

– Trent Doherty, General Manager, OakWood>
Planning and material selection couldn't be easier
With OakWood you get a one-stop large project solution.
Everything you need is under one roof at our award-winning Design Centre and Showroom.
See over 7,500 items and one-of-a-kind, fully functioning displays
Access our database of over 150,000 products—many from our handpicked partners
Choose materials from any manufacturer in the world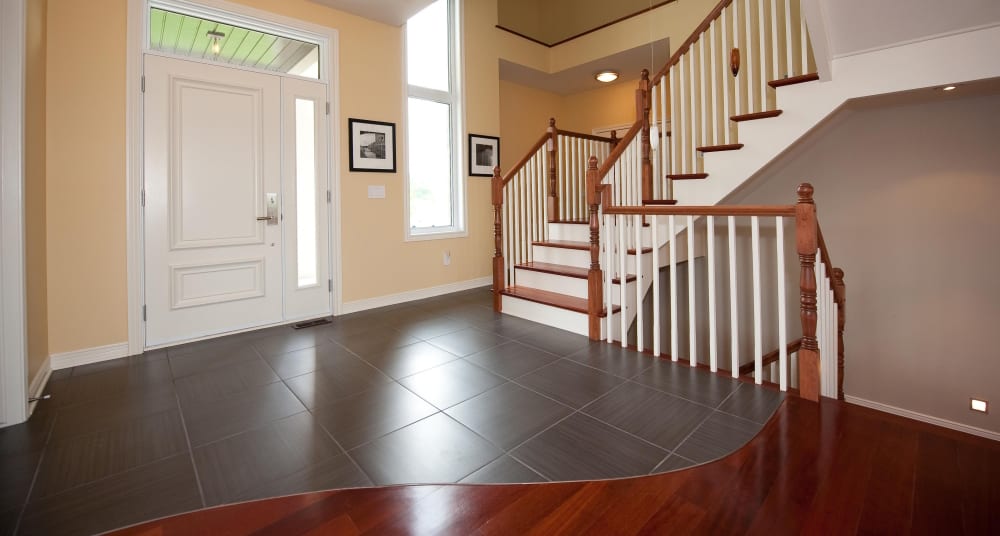 Flooring Options
Choose from a broad range of material choices including marble, granite, various wood options, linoleum, laminate and eco-friendly options like cork or bamboo. Our Design Consultants can share the pros and cons of each to help you make the best decision for your project.
Energy-Efficient Windows
Drive down heating and cooling costs with high performance windows that meet Energy Star® standards. Casement windows, Bay or Bow windows, awning windows, architectural windows, single and double hung tilt windows and many other styles. See them all at the OakWood Design Centre.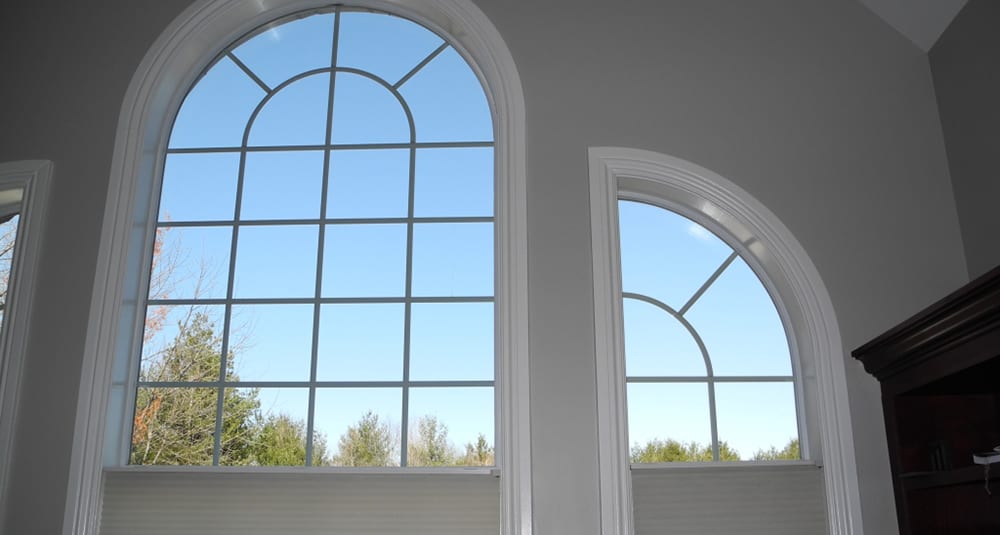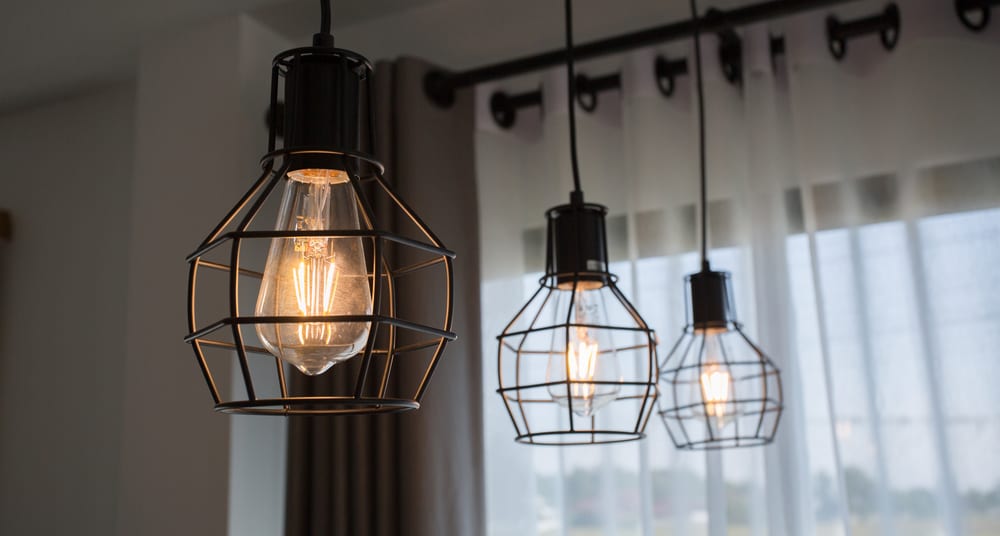 Innovative Smart Lighting
Enhance the beauty of your new addition and reduce energy bills with Smart LED lighting and incandescent lights. Choose from a wide range of lamps, fixtures, pot lights, and accessories to get the perfect light. Spotlight special features. Create a warm welcome or whatever mood you want.
Door Options That Add 'Wow'
High quality, well insulated energy-efficient swing doors, sliding doors, or massive, low maintenance patio doors. Choose from a broad range of materials including vinyl, steel, wood, and glass—depending on the look you want. Talk to our consultants about insulation and R-values.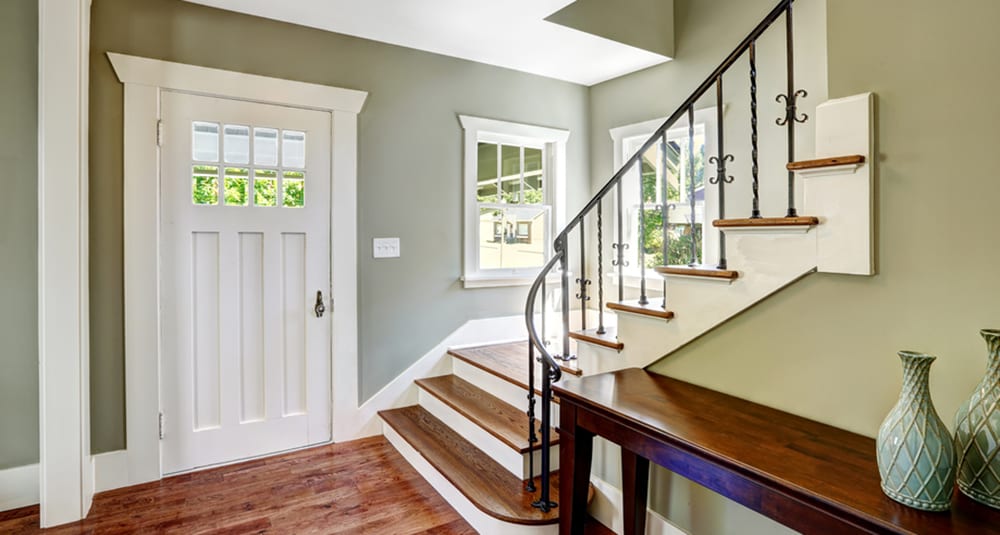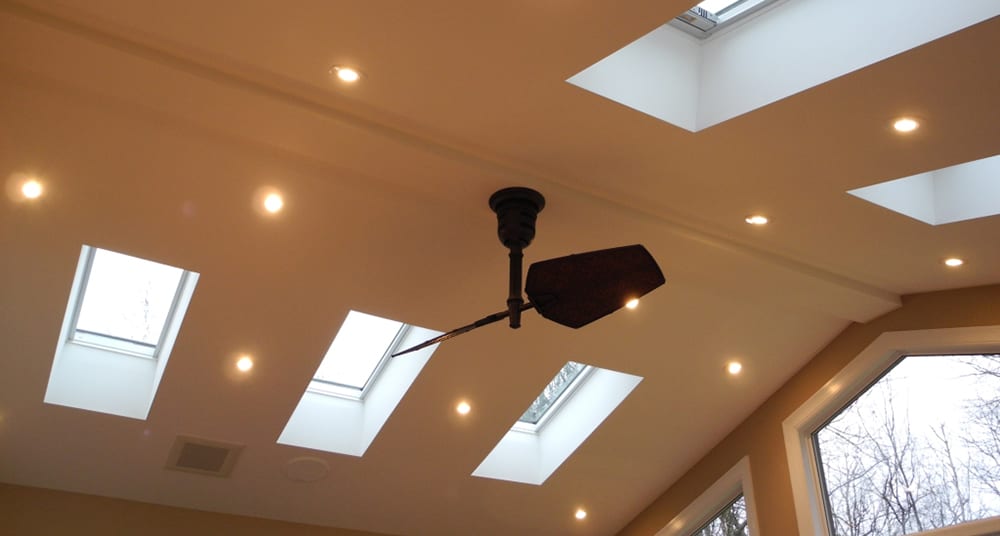 Simple to Decorative Ceiling Options
Whether you are looking for a conventional, suspended, slanted, tray, vaulted, cathedral or custom ceiling design, the Design Centre gives you instant access to the materials you need including accent features like ceiling fans.
Custom Cabinetry & Millwork
Add sophistication and elegance to your new addition or bump-out with a custom wall or entertainment cabinet. OakWood has an exclusive production line inside Cabico Manufacturing to give you an affordable cabinet solution tailor made for your space with over 100 finishes and material choices including cherry, knotty pine, red oak, maple, rustic alder and many others.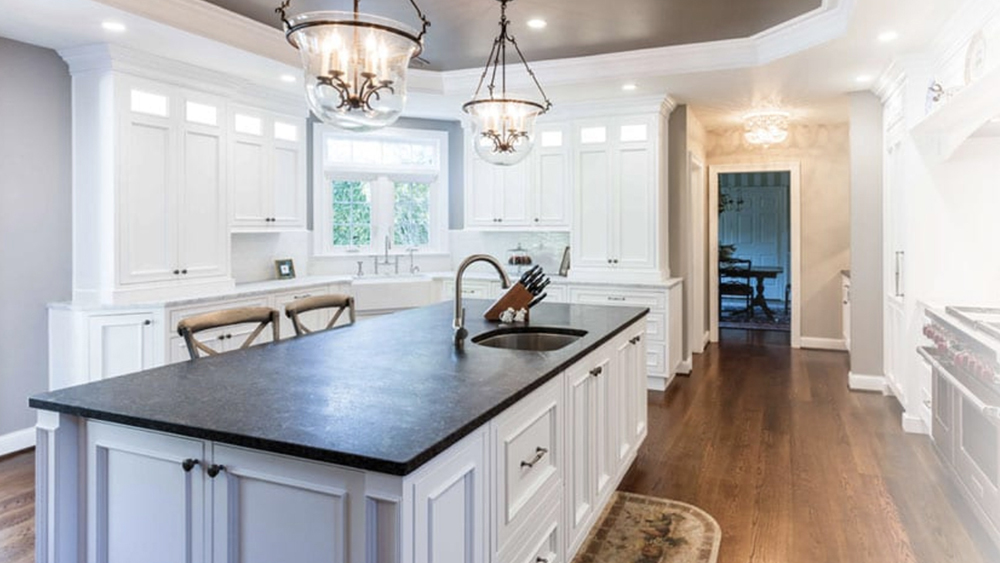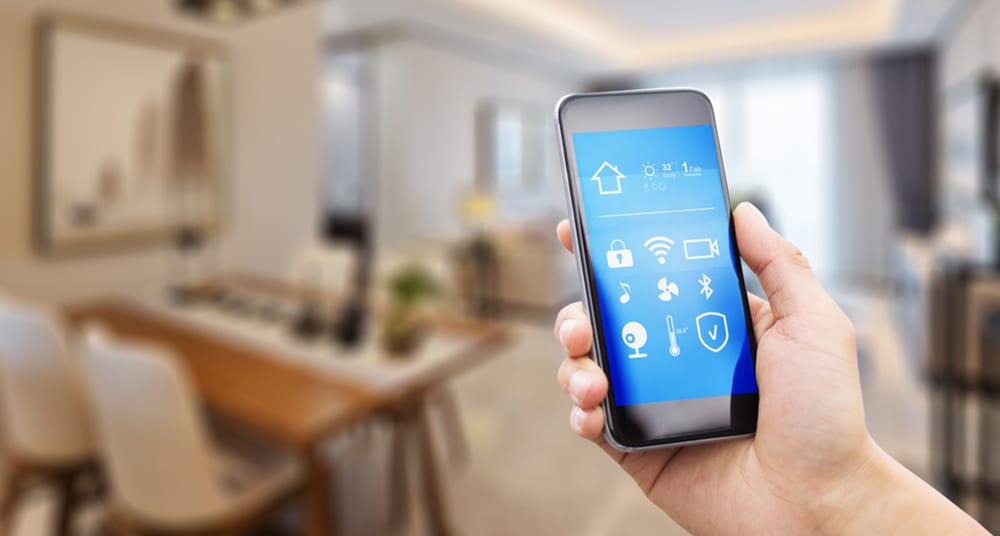 Innovative High Performance solutions
OakWood specializes in Design & Build renovation projects and custom homes that take advantage of the most innovative energy-efficient, Smart Technology, healthy, and eco-friendly solutions available today. Your major renovation could be an important opportunity to incorporate some of these advanced products into your project.
This list barely scratches the surface of possibilities for your large renovation.
Schedule a consult and tour of the Design Centre to see hundreds of options.
"To summarize, Oakwood delivered our project on time (actually faster than expected), exactly on budget, while providing excellent collaboration, transparent communication, and an indefatigable commitment to delivering exactly what the client wants. Can you tell I'm a happy customer? Chose Oakwood and you will be too!"
Geoff Greenfield
"After I worked through your site many times and searched out customer reviews on OakWood I knew we had found what we were looking for."
Charles Armstrong
"As always, your staff is professional and meticulous.  We really appreciate all of your great work and would not hesitate to recommend or use you for a future renovation."
Nancy Carlson and Bruce Gordon
"From your initial response to our telephone call through the entire repair, the job was handled quickly and professionally.   We thank you for your attention to this matter."
Judy and Doug Fyfe
"I just wanted to thank you for everything (ensuring things were fixed, digging into what had happened before you joined the project, and getting the front and back finished, amongst other things!). It's so nice to have both projects finished."
Sylviane Laferrière
"I also really appreciate your work in managing this project - your communications have always been professional, honest and open, making this experience much more palatable"
Beth Lavender
"We wanted to thank you for the professional approach and great job that was done by the crew.  It's hard to get excited by a "sump pump room"….(wish it was a new kitchen or basement) but it's exactly what we needed in terms of cleaning up that space and making everything easily accessible and damp free."
Robert Fallenbuchl
"They were able to make what could have been a harrowing roller coaster ride a smooth one. Working with OakWood wasn't just the most important decision we made, it was also the best decision we made."
Erik van der Torre
OakWood in inclusive, trustworthy, honest…I don't think there is a comparison.
Heather Charon
"We are so grateful that we entered into a fixed price contract with Oakwood and that we were blessed with two extremely professional and talented people in Dan and Scott.  Thank you!"
Joanne Levesque and Rick Picard
"We are both ecstatic and pleased with the finished product and professionalism demonstrated by your company."
Robert Cvetas and Serge Labrecque
"Once again, Oakwood has met all our expectations for this project involving the tree removal, the fence installation and the relocation of the shed. We assure you that with a few more projects to come, we will continue to refer to Oakwood without any hesitation. Thank you for everything!"
Diane Tessier
"Our Designer got to know us by listening to what we were looking for and brought forward innovative ideas, pushing a bit to see where we were comfortable and where we were not. The design process was organic-growing from a concept and it took a good number of versions and modifications as the process went forward. Throughout it all, Our Designer was patient and professional, answering questions and providing advice."
Marilyn and Peter Hill
"Thank you very much for a job well done.  We do appreciate the commitment shown by everyone involved"
Jeff Morden
"We now know why OakWood has been in business for so many years and why we see so many of their signs in our neighbourhood."
Michelle and Glen
"In short it was a brilliant success! The end result exceeds expectations and along the way we met lots of great people with great skills and talents. The entire process was professional, well managed, well-staffed and we had complete confidence that the end result would be worth any renovation anxieties along the way."
Barbara Armstrong
"We have been very impressed with the progress that has been made on our renovation project. All of our questions have been answered. Additionally, all of the contractors have been very polite and courteous, even knocking on the door in the morning before opening it with the key. They have left the house relatively clean and they tidy up behind themselves."
David & Noreen Haley
"We're quite happy and we'd just like to express commendation. We're extremely pleased and relieved. Thank you very much for the time you've taken to put things right for us."
Michael & Caryl Pratt
"Thank you so much for all your help with this. Your work with us was amazing."
Elliot Lee & Soojin Chun
"The project management on this aspect of our renovation was excellent. We were kept apprised of developments as the work progressed and our input and concerns were addressed immediately. The work was done in a professional manner with minimal impact on our daily lives. Overall it was a very positive experience and we are very pleased with the results"
Marke Kilkie
"We chose Oakwood for our second large scale renovation because of the great customer service they provided when we renovated our third floor loft space a few years back. In fact, I specifically remembered the Oakwood crew for their quality work from our first reno and requested them to do the kitchen reno. This time around, it was very gratifying to see that the customer service is still a priority. We appreciated that you recognized us as a return client and went above and beyond to welcome us back."   
Joanne Kim 
"OakWood's creative problem solvers and friendly staff work together to ensure a quality finished renovation project which fully meets customer needs and expectations. You can trust OakWood to get the job done!" Susan Roberts
"I wanted to let you know how pleased we are with the final result of our main floor renovation. The difference is stunning! We had a pretty good idea what we wanted right from the very beginning, but the end result is much better than we expected."
Ross McGhie
"We really appreciated the great service and project. Thank you and team very much."
Berend Jan Velderman
Our kitchen is more than the dream we hoped it would be…
Larry and Carol Lethbridge Hudon
"All in all we are very happy with our new kitchen, and looking forward to enjoying it for a long time. Thank you for your part in making this renovation experience as painless as possible! "
Paula and Dave Roach
"We choose OakWood because friends of ours had OakWood do an addition for them. Also because the company seems to have a good reputation. Lastly because we are very busy and do not have the time to organize all contractors and supplies in order to manage a renovation project."
Penny Burton
Let's Talk About Your Project
Book a complementary, no obligation consultation
Let's get started with a call. Or schedule a complementary, no obligation consultation with one of our expert Project Consultants now—and receive a detailed QuickQuote™ for your project.