OakWood won the award in the category Best Home Builder for the first time and the award for Best Home Renovation & Design Company for the fifteenth year in a row. OakWood is the first and only business in Ottawa to win this award every year since the Consumer Choice Awards were introduced in 2008.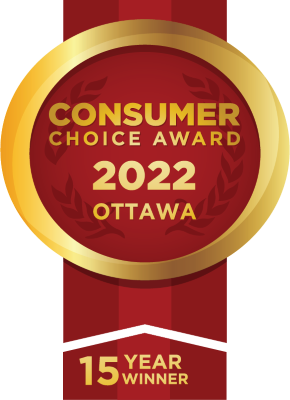 "We are honoured to receive the Consumer Choice Award once again. We believe winning this award for so many years is a testament to OakWood's commitment to consistently providing high-quality Design & Build services and an exceptional client experience. We would like to thank our staff and trade partners for their hard work and dedication and of course the people of Ottawa for choosing OakWood once again." says John Liptak, President & CEO of OakWood.
About OakWood Designers & Builders
A fourth-generation, family-run business with over 65 years of experience, OakWood specializes in the design and build of high-quality custom homes, renovations, investment properties, and commercial buildings that are energy-efficient, technology enabled, healthy, and built using the eco-friendliest products and construction practices. OakWood's comprehensive service offering includes: Architectural 3D Design, Custom Homes, Renovation Experts, Age-in-Place, Safe Homes, Infill Lots, Estate Lots, Commercial Services, Investment Properties, Land Development, Project Planning, Property Management, and Project Financing.
About Consumer Choice Award
Consumer Choice Award was established in 1987 with the sole purpose of recognizing business excellence in small and medium-sized businesses.
Consumer Choice Award recipients are not selected by a panel of judges but chosen by the Consumer. Award winners are the result of an in-depth, consumer evaluation process. It involves the gathering of unbiased consumer opinions, gleaned from Online and Social Media sources by Advanced Symbolics International, (ASI) a leading North American AI-Driven Market Research Firm.
Consumer Choice Awards' dynamic selection process produces the most sophisticated consumer driven results available today. A method that ensures that only the most outstanding companies across Canada are the winners of this prestigious award.
For more information, visit the Consumer Choice Award website.