Even after six (+) decades and over 9,600 successful projects we still get a thrill when a client sends a reference letter to describe how happy they were with the experience and finished project. Here we provide a small sample of what our clients say.

Kitchen
"I am so proud when someone comes into my home to see the kitchen and can't believe the design and impeccable workmanship that has been completed."
Debbie Oaks
Addition
"On the outside people are surprised to learn that the front addition is in fact an addition, the brickwork blends into the original house so smoothly."
George Haydu and Marie-Claire Douville
Major Renovation
"When we first started looking at builders, we chose OakWood because of their reputation and their professional proposal. We have heard a lot of horror stories about bad builders and are so happy that we got the best one for our home."
Jill Ellwood
Major Renovation
Third Floor Addition, Bathroom Renovation & Landscaping
"If I had to characterize OakWood in just one sentence I would have to say that what's great about them is they really do deliver on their promises."
– Erick van der Torre –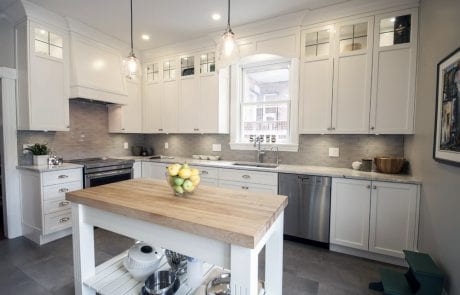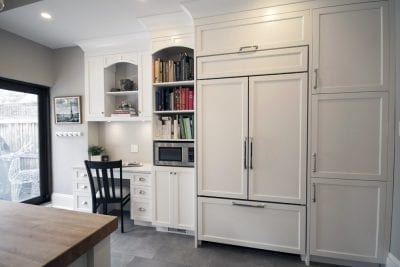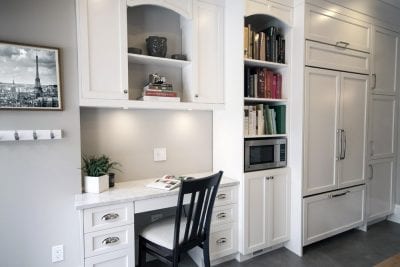 Kitchen and Family Room Addition
"The quality of the workmanship is hard to beat."
~ Ms. Lahey
The Lahey's chuckle when they recall that a major kitchen and family room renovation started innocently with the kitchen floor. Ms. Lahey acknowledges their house was more than 40 years old and the kitchen "was old and tired." The Lahey's had been mulling over a new kitchen for years and thought a new floor would introduce a welcome sparkle.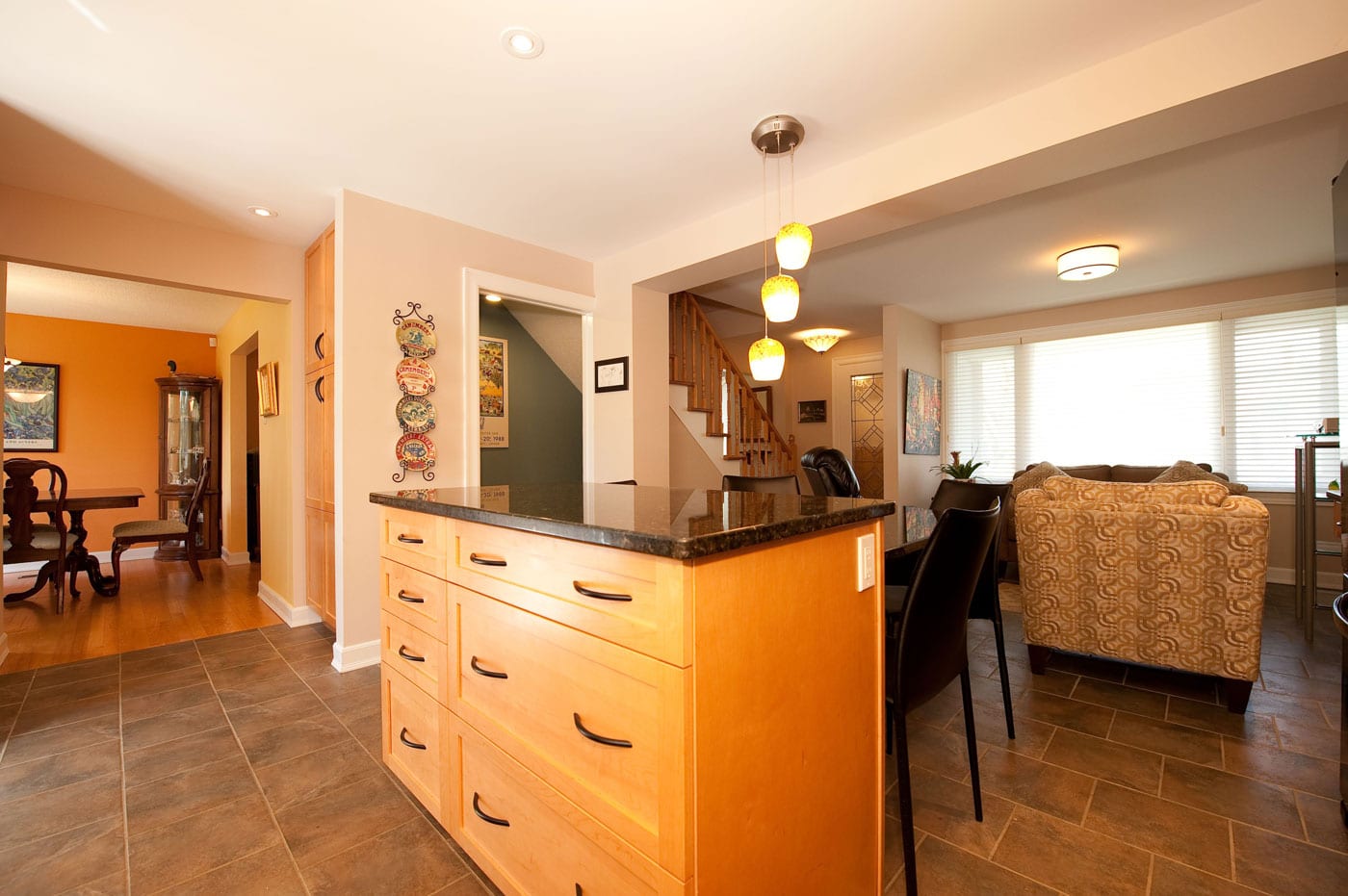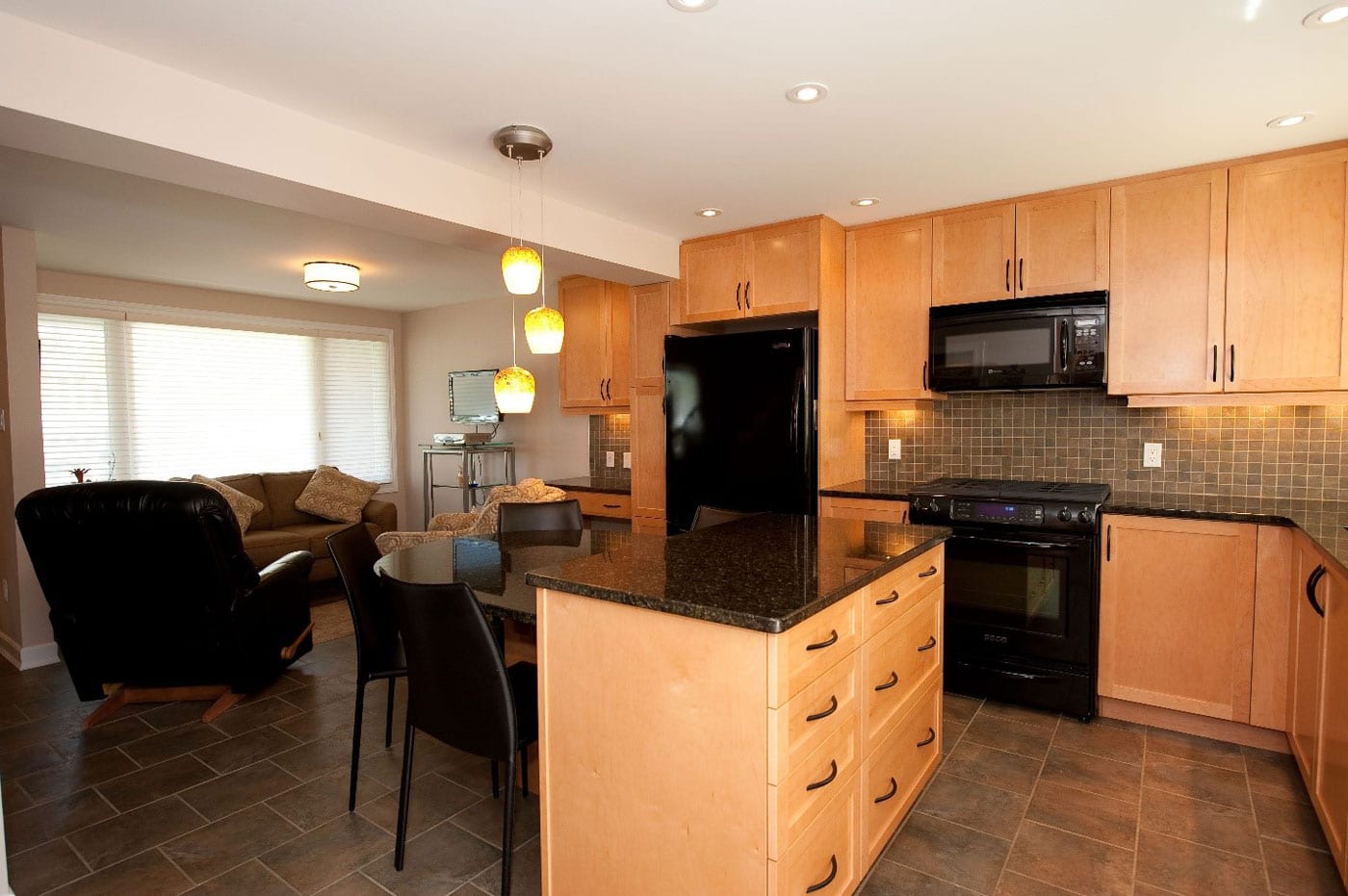 "The quality of the workmanship is hard to beat."
The Lahey's chuckle when they recall that a major kitchen and family room renovation started innocently with the kitchen floor. Ms. Lahey acknowledges their house was more than 40 years old and the kitchen "was old and tired." The Lahey's had been mulling over a new kitchen for years and thought a new floor would introduce a welcome sparkle.
While it may have brightened up the space a new floor would not create more natural light or a more functional workspace. Ms. Lahey wanted more useable space and a new kitchen design that would create better flow for entertaining and a welcome gathering spot for family and friends.
After realizing more than a new floor was required, the Lahey's invited six different contracting companies to come and tell them what was possible. "OakWood took our admittedly vague design specifications and blew them wide open, respecting our budget and establishing a workable timeline," says Ms. Lahey.
To make more space without adding to the home's footprint, OakWood removed the wall between the current kitchen and the adjacent sitting room. We also removed the small wall at the rear entrance off the kitchen. Installing an island countertop improved traffic flow while creating a focal point for any gathering while adding a new eat-in-area that doubles as a work surface.
What the Lahey's liked best was OakWood project management capabilities. Weekly conferences were used review the work progress and discuss any issues and concerns.
OakWood's ability to develop and manage a tight construction schedule paid off. "OakWood actually completed the renovation a week AHEAD of schedule," confirms Ms. Lahey. "When I told friends about that, many of whom had also gone through a renovation, they were absolutely amazed."
Best of all, the final kitchen and family room was everything the Lahey's hoped it would be. "The quality of the workmanship is hard to beat," says Ms. Lahey. "OakWood did a wonderful job on our kitchen and I would not hesitate recommending them to anyone else. We would definitely use them again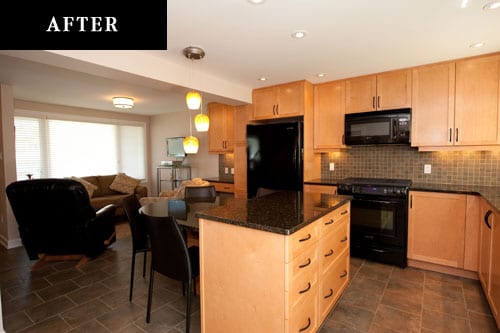 The Durrell Renovation
"OakWood is a Company that is committed to Customer satisfaction, to a level of excellence and to ensuring that when the job is done, it's done to perfection."
~ Jim Durrell, CEO, Capital Dodge (former Mayor, City of Ottawa)
Basement Transformation
"We did not want it to look like we were entering a basement"
The primary goal of the Atul's and Richa's dream renovation was to convert their basement into more usable space while ensuring that it did not look like a basement. A key priority for them was a design that would seamlessly integrate a new state-of-the-art entertainment system.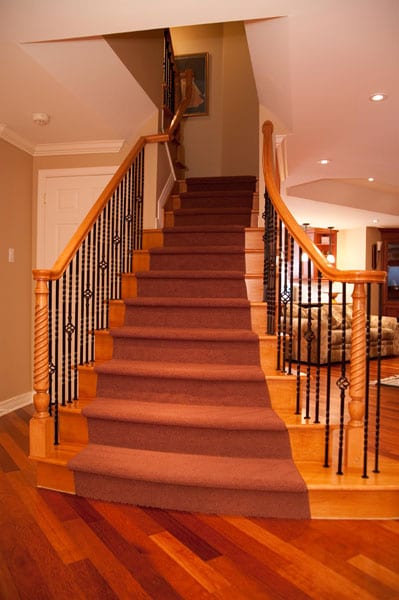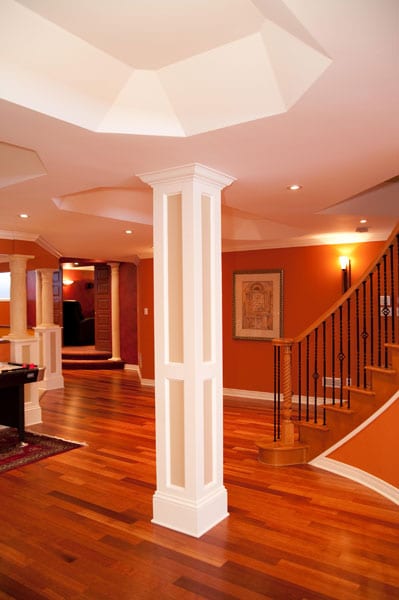 Following several detailed consultations, the OakWood team unveiled a breathtaking design plan that would transform Atul's and Richa's vision into reality. As part of the design OakWood changed and relocated stairs to an innovative and visually stunning circular stair system. This was a critical design feature to ensure no one would have the sensation of entering a typical basement. "We love this feature, and think of OakWood every time we walk down the stairs," admits Atul.
The final renovation exceeded Atul and Richa's expectations. "OakWood made it a reality, fulfilling our dreams," says Atul. "We have our friends and family over all the time to watch movies and it's as if we are at the theatre, except we are in the comfort of our own home!"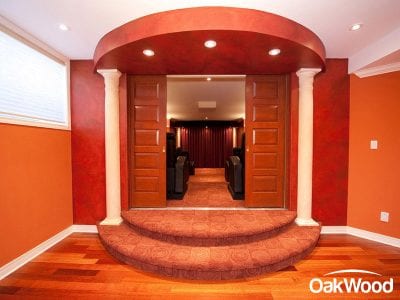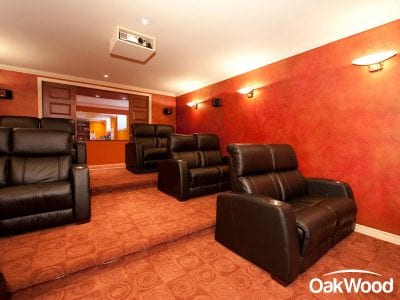 Kitchen and Addition
"I now have a beautiful kitchen and an addition which exceeds what I imagined was possible…People talk about the wow factor but now when friends see it, I get at least three 'wows' and a few 'OMGs!' to top it off."
~ Linda Moran
Having run out of bedrooms and wanting to make sure her two teenage sons were comfortable in this small Westboro home, our client was forced to sleep in the living room! This along with the tired condition of the home prompted a call to Renovators for ideas and estimates.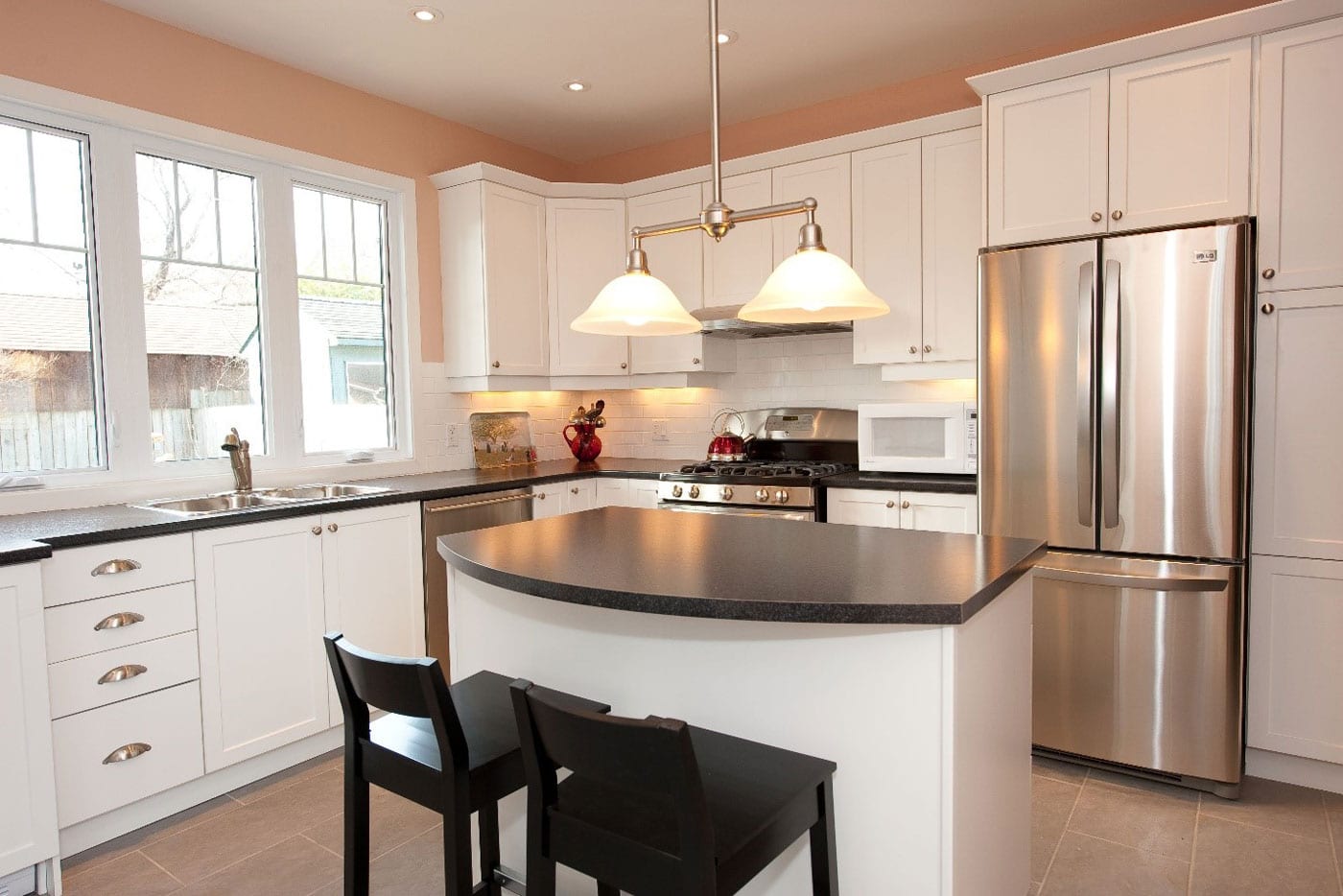 "OakWood impressed me from the beginning as professional, knowledgeable and experienced," says Linda Moran, homeowner. "Other contractors, who had been recommended, either didn't listen, weren't prepared to answer questions or were drawing plans on the backs of envelopes!"
The final design from OakWood called for a two storey addition with a spacious new kitchen and second floor bedroom.
Simple clean white cabinets were used to make the space feel larger—even with the addition of a big center island and eat-in area. The eat-in area works perfectly for the busy lives of the homeowner and her two sons. The large centre island is roomy enough for preparing meals and doing homework. 12″ x 24″ tile flooring in a brick pattern gives the kitchen a touch of flair.
To increase the efficiency of the home and the kitchen, a washer and dryer were incorporated into the kitchen cabinetry design and layout. When the doors are closed the laundry area blends in seamlessly with the rest of the kitchen.
A remodeled second floor bathroom gave this family exactly what they needed to survive the morning rush with 2 teenage boys. The updated bathroom was taken down to the studs and re worked to better fit the family's needs. The new three-piece bathroom and trendy new tile match the new flow and style of the addition.
A new bedroom added to the second floor of the two-storey addition gave the homeowner some much needed privacy and a place to wind down and relax. Flooded with natural light from numerous large windows, this is an inviting space to nestle down with a book and quietly disappear.
Period Renovation
"From beginning to end we found the OakWood Team to be imaginative in their design concepts, professional in their execution and truly focused on the satisfaction of their client."
~ Gord Loney
Big windows, sky lights, large windows, majestic double doors, and elegant millwork are a few of the design touches that helped update this period home for a new generation of family living.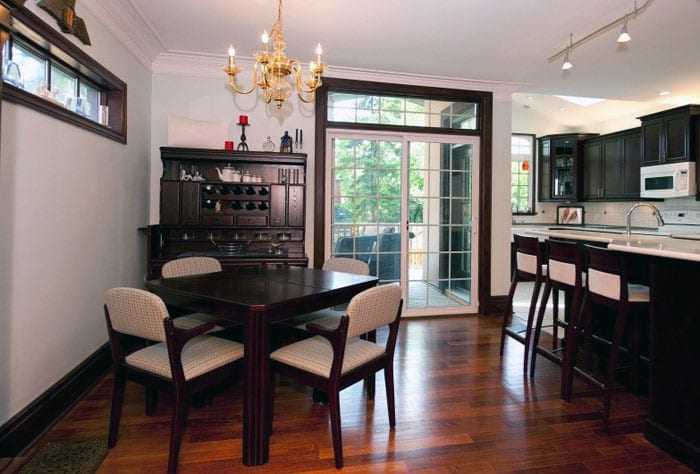 Our client loved their period home but not their kitchen, period! With a growing family, they knew that simply renovating the existing kitchen would not be enough. They turned to the OakWood Renovation Team for expert design and planning help.
An addition was required
Our clients had already decided to build an addition to increase the footprint of their kitchen space—they just didn't know exactly how to do this in the most efficient way possible! Using OakWood's unique 3D software our in-house design team helped our client clearly see a wonderful new indoor and outdoor space that was both inspirational and functional too.
Lighting was a top priority
To take optimal advantage of natural light the OakWood design incorporated lots of windows and glass doors. This was complemented with an intricate in-door lighting plan to ensure bright and cheery spaces in any season.
Programmable lights instantly create any ambiance!
All lighting is programmed and controlled by a 6-zone graphic eye controller. This allows for many different pre-programmed settings for the recessed under cabinet, over cabinet, track, and pendant lighting. From dinner preparation to cocktail hour, all lighting can be programmed and pre-set to instantly create the desired mood.
Other design features:
A bold new set of double-doors

 

corners into the kitchen and dining area to bring in more natural light while making the covered porch area feel like a seamless extension of the indoor living space.
Custom millwork

 

stained to match the cabinet colour adds simple elegance and balance to the space while tying the new addition to the home's period roots.
Cream tile, stone countertop and walls

 

make the detailed millwork really stand out!
A large island with a bar sink

 

separates the dining and kitchen areas while still making them flow together—large enough for homework and meal preparation to occur at the same time which is perfect for this busy family to stay connected.
A big thank you party!
Our client loves to entertain, and the new space begs them to invite even more people over to revel in the fun! In fact, our client was so delighted with their renovation they had a "thank you" party for the OakWood Team for a job well done. This was a fantastic way to wrap-up this renovation!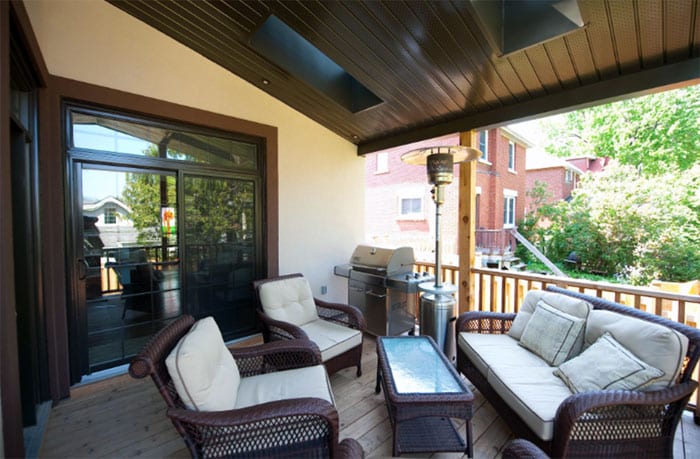 No surprises or extra costs
"We have never been surprised by invoices requesting more than we anticipated. OakWood's use of the Change Order System ensures that once a contract is signed, the homeowner will be notified of potential further required work in writing, and the work will not be completed or charged to the homeowner without their signature as consent to do so."
Ruth and Malcolm Vant

Switching to OakWood
"I started with another company before switching to OakWood….when OakWood started to work we saw there where "corners had been cut" and OakWood had to repair the work I had already paid for from the last company…The quality of the work is outstanding. The workmanship is excellent and they hire qualified people…"
Dr. Laura Murray

Choose Wisely
"There are numerous companies who are able to renovate a home and there are many promises that will be made to you and that is why one needs to choose wisely… So what do I mean by choose wisely? Chose a team that will listen to your complaints and rectify any and all deficiencies you may find in your home. Choose a company who has been around for years. Choose someone who has the connections and resources to solve problems. Choose someone who cares about the environment. Choose a team with excellent client service. OakWood has all of this. They can satisfy even the most demanding clients."
George Atanasiu
We've Barely Scratched the Surface!
This sample of client success stories and testimonials barely scratches the surface. Every year we receive hundreds of unsolicited letters thanking the OakWood Team for a job well done. Can we add you to our growing list of thrilled clients?
Come and See for Yourself!
Book a complementary, no obligation consultation
Let's get started with a call. Or schedule a complementary, no obligation consultation with one of our expert Project Consultants now—and receive a detailed QuickQuote™ for your project.