A majestic circular staircase, stunning black walnut countertop, and 4D tiles are just a few of the notable design elements that bring this tired home into the 21st century
Make it contemporary but cozy
Our client had wonderful memories of raising a family in their home. Now empty nesters with two adult children, they were looking forward to the next chapter in their lives with their home a foundational element.
They didn't want to move. But please, let's open-up that cramped and dysfunctional kitchen!
Let's brighten and lighten the entire home.
And let's modernize but not lose the coziness and original rich textures that made the home feel like home.
Our client loved to entertain, so ensuring the main floor had flow from one room to the other was also important.
That was the broad framework that OakWood's Design Team had to work with. And as this story will show, they did not disappoint!
Here are the details with dramatic before and after photos that really tell a remarkable story.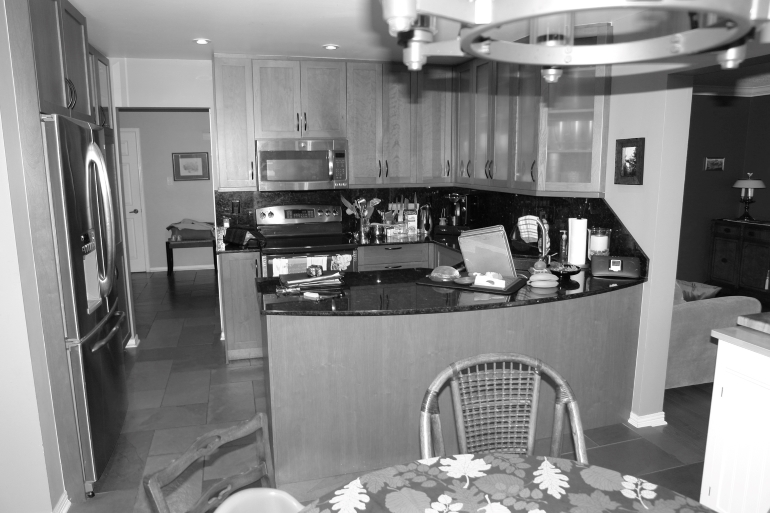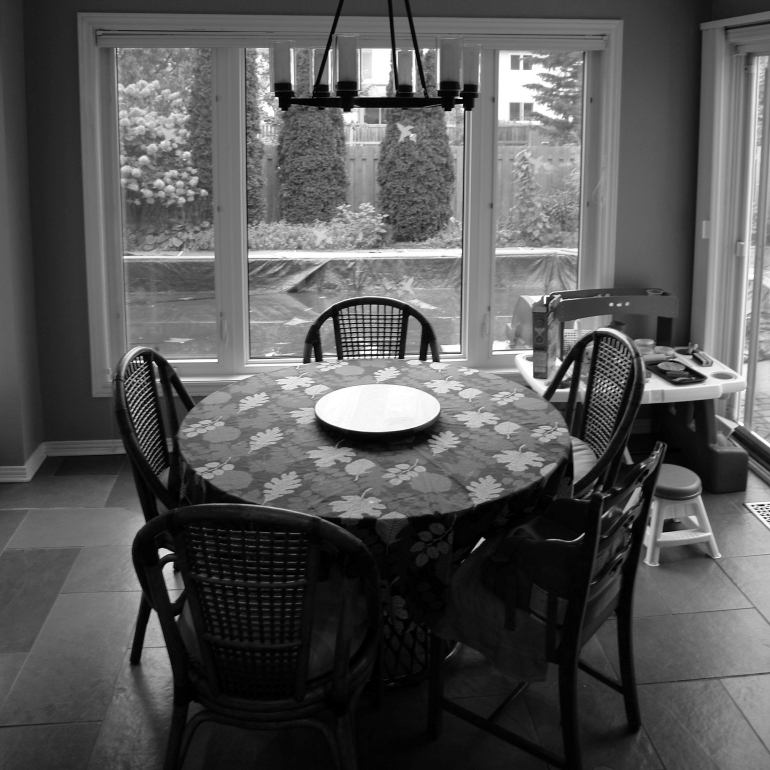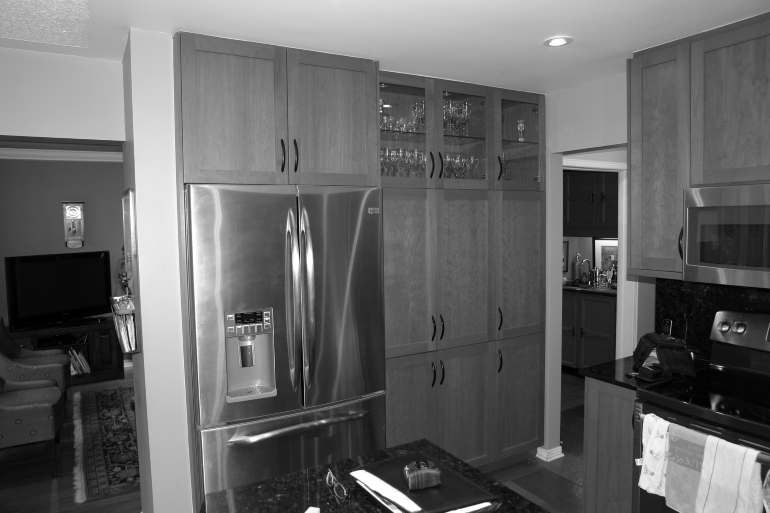 BEFORE: A small kitchen, roughly 12' x 18' was hemmed in by dining and living room walls to create a confined space
Kitchen Transformation
As you can see above, the original kitchen was configured around a small u-shaped countertop. Two walls separated the kitchen from the living and dining rooms.
This type of compartmentalization was a popular design style in the recent past – but resulted in smaller rooms and a closed-in feel. Exactly what our clients wanted to change!
The OakWood Team recommended removing both walls and allocating the dining room space – roughly 12 x 12' – to create a larger kitchen. This doubled the size of the kitchen which now flows seamlessly into the main living room. The overall effect is a bigger feel with welcome breathing room to entertain, cook, and eat!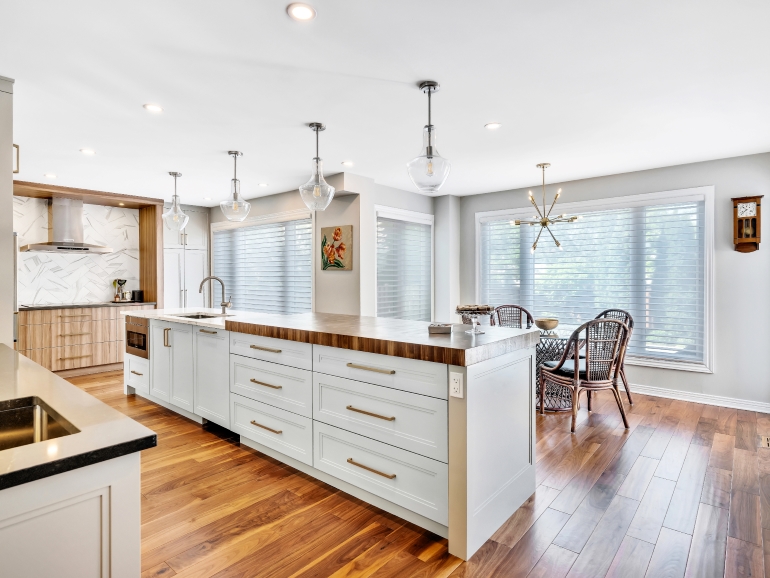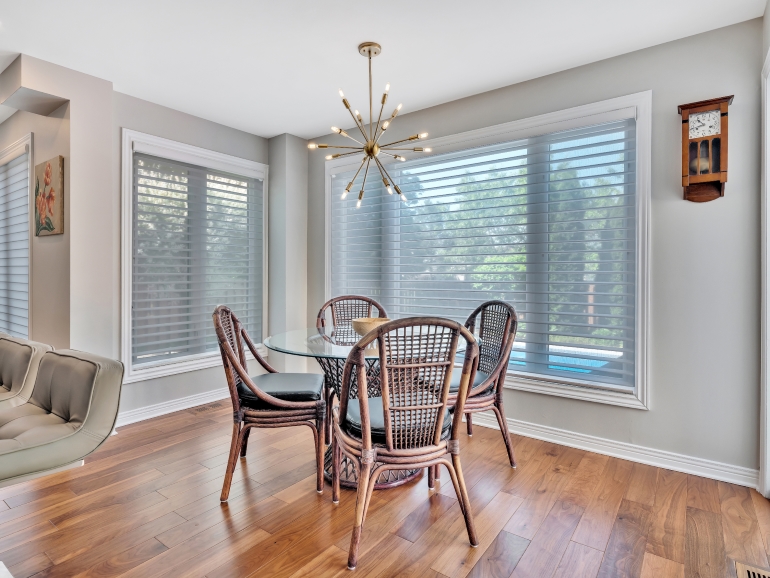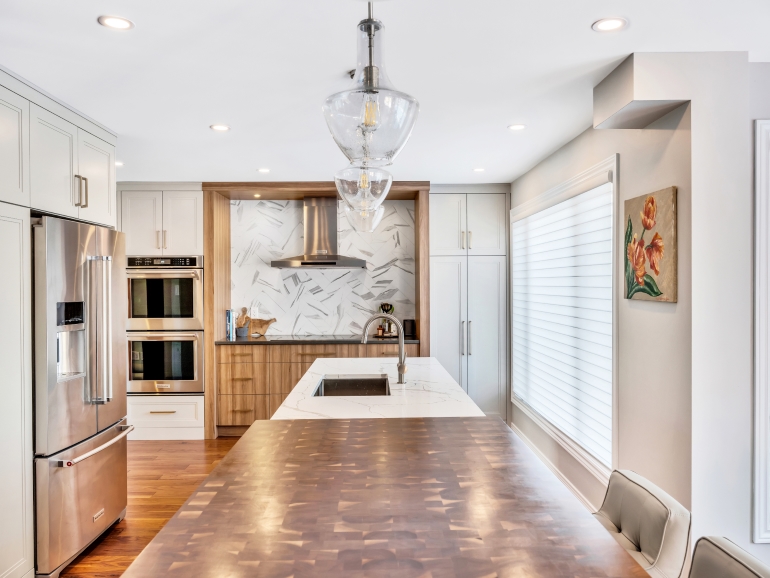 AFTER: removing two walls opened the kitchen to create one flowing area and room for a massive island counter
Two Island Countertops
The expanded kitchen made room for an impressive island with two countertops.
The first island features a stunning black walnut butcher block counter with rich grain variations and room for three bistro style chairs.
The countertop is finished with 3" end grain rather than the more traditional edge grain (AKA "long grain"). With end grain, hardwood is laminated together with the ends of the wood in a vertical orientation. This results in a more striking and complex look – the top surface is made up of small squares rather than planks.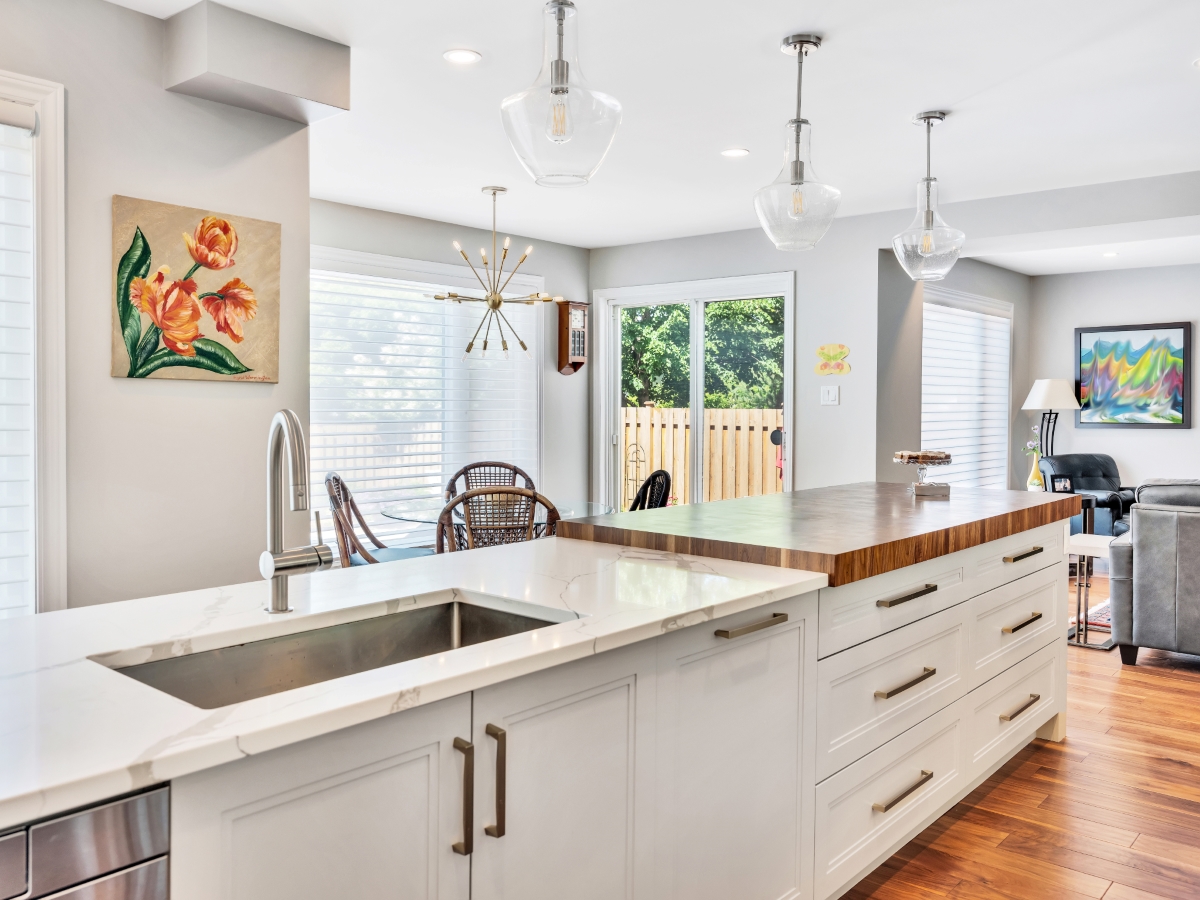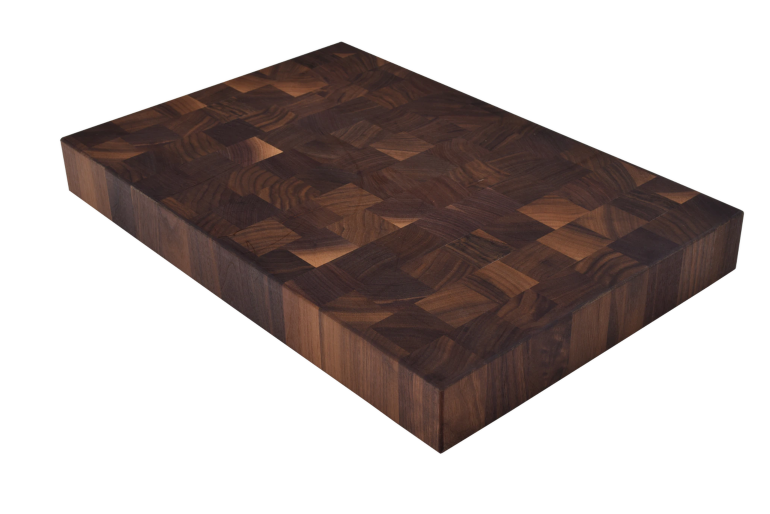 Black walnut finished in chocolate brown makes a striking statement. However, any butcher block countertop does come with more maintenance than other surfaces. For example, it will need periodic applications of a food safe mineral oil.
Also, hot frying pans and pots can leave a burn ring. However, a walnut butcher block has the advantage of being relatively easy to repair. A light sanding followed by waxing is normally all that's required to remove stains or burn marks and restore the finish to good as new!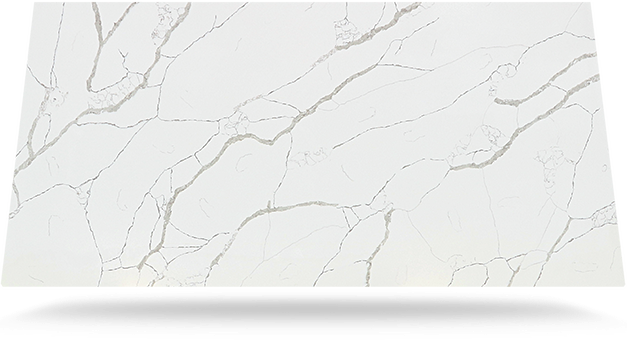 The second island features a Zenith Calacutta Tuono quartz countertop with subtle swirling colours and a marble-like finish. This also included a stainless steel sink from Blanco.
All faucets – two in the kitchen, one for a bar counter in the living room, and the powder room are Hansgrohe.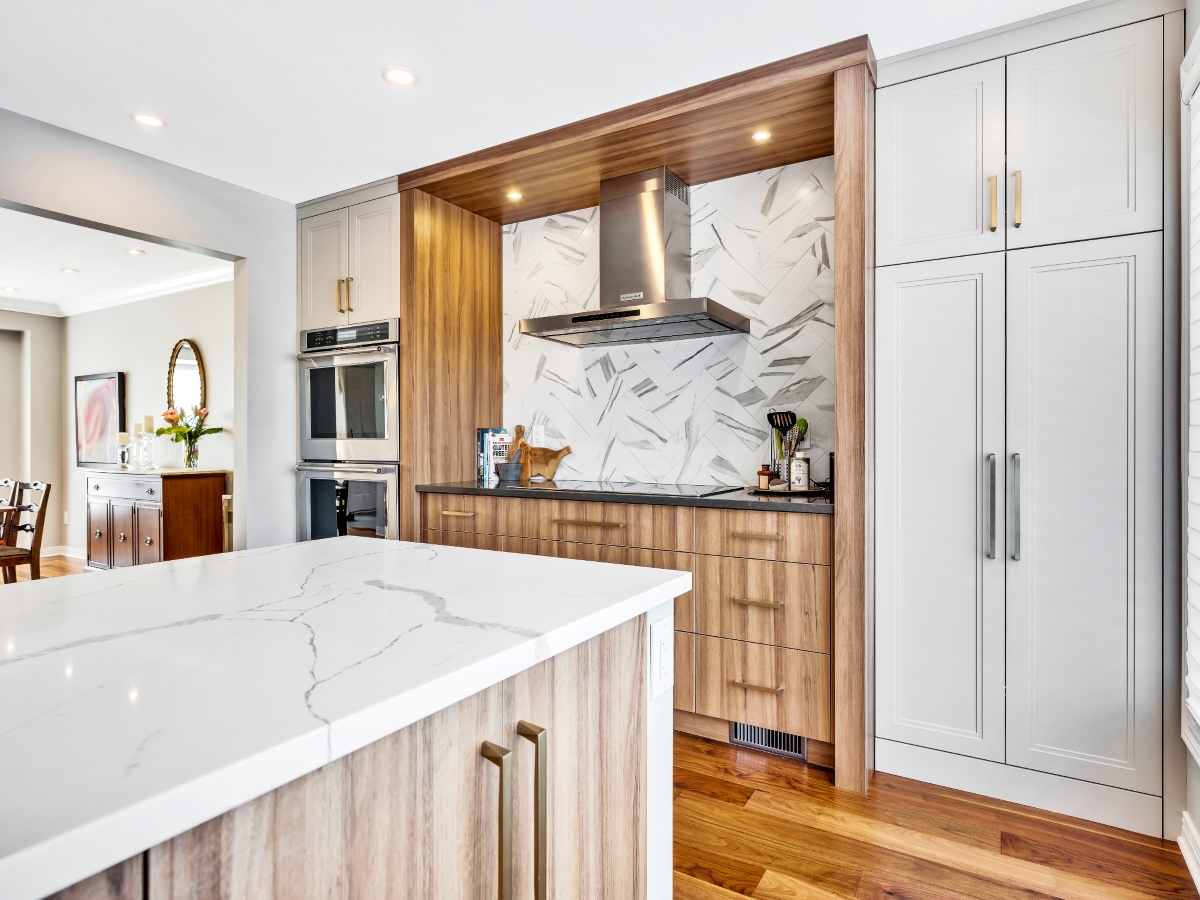 Our Design Team recommended a cabinetry solution from Cabico's Essence series for the quartz countertop island. Essence offers a high level of affordable customization with over 20 preselected door styles and over 25 preselected finishes.
However, Essence also offers textured engineered wood to match the butcher block countertop. This has a convincing black walnut look without the black walnut price!
The Essence series with engineered walnut was also used for the cooktop, and to frame the cooking area to create a rich, integrated look throughout the kitchen. The striking backsplash that you can see is 4 ½" x 13" tile placed in a herringbone pattern.
All perimeter cabinetry – lowers and uppers – are made from MDF from Cabico's Unique series and painted a subtle grey called Mist. The Unique series is customizable in 1/8" increments while offering the creative freedom to choose from more than 100 customizable door designs and over 100 preselected finishes.
Contemporary Handles 
Pulls are Subtle Surge from the Berenson Collection and chosen for their minimalist design. Finished in brushed gold they add a touch of sophistication and enduring beauty.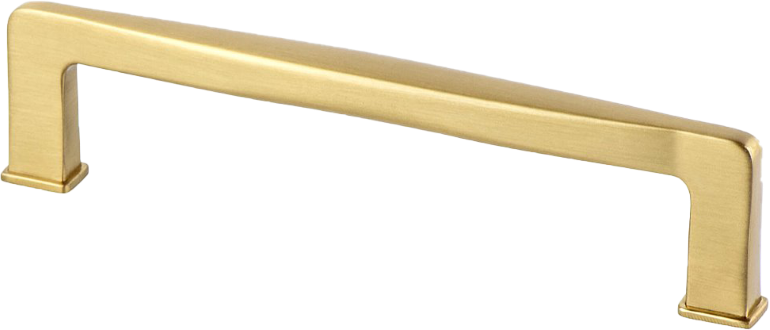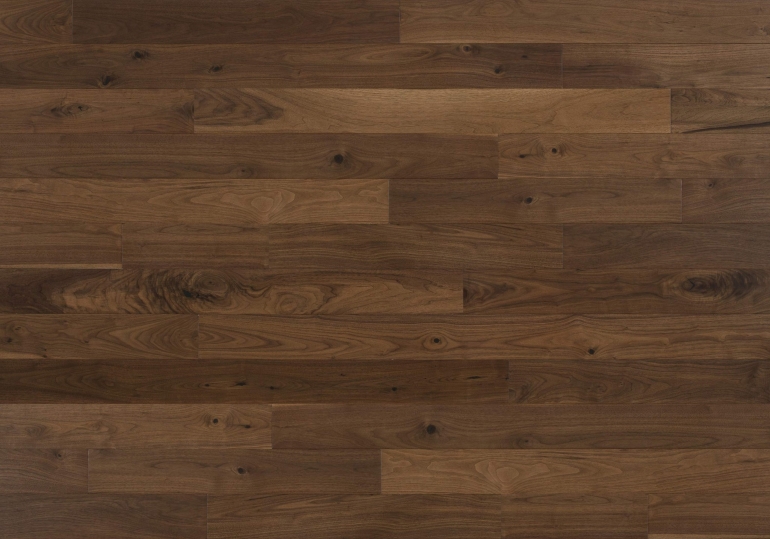 Engineered Black Walnut Flooring
5" wide engineered black walnut from Lauzon's Homestead series was used in the kitchen, living room, and dining room. Finished in Country Side with 20 percent pearl, the new flooring created a warm ribbon of continuity to the entire lower level transformation.
Subtle Lighting
Four bell-shaped Kichler Everly Pendant lights with a brushed nickel finish and clear seeded glass provide 360 degrees of diffused light. Classy, simple, and stylish. A nice accent without being too overbearing.
Our designers often recommend hanging these types of pendant lights at varying heights for visual interest.
Interesting note: because the glass is blown, they're not 100% identical in length!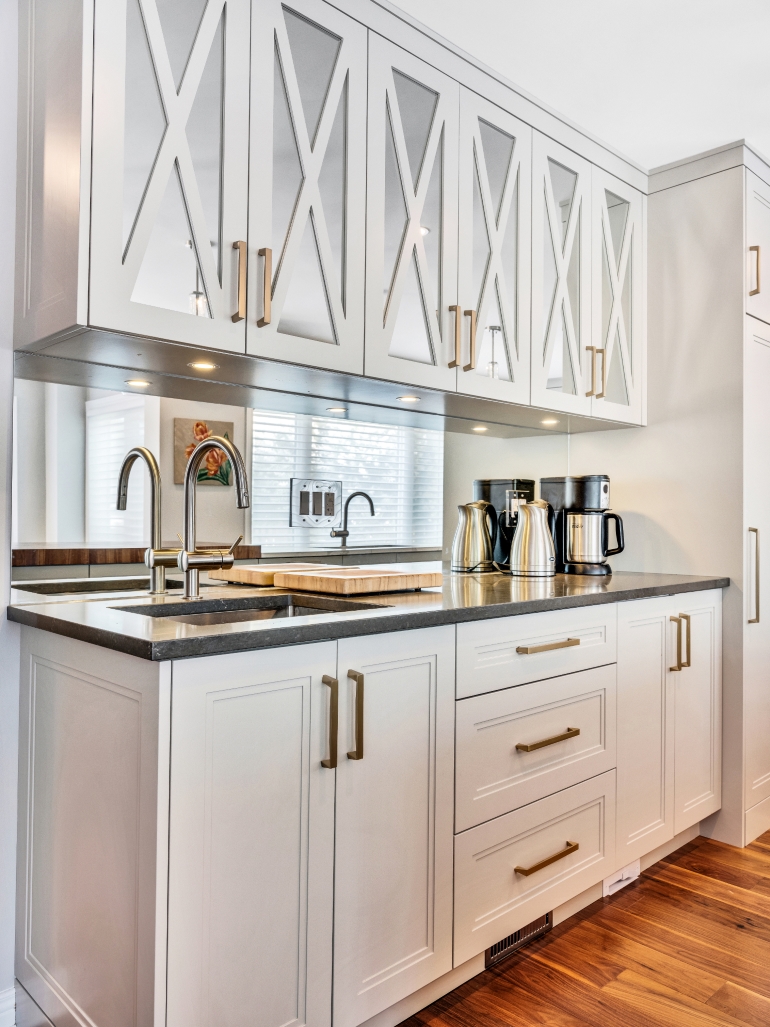 Special Feature: Gluten Free Prep Area
Our client's daughter is non-Celiac, gluten intolerant. Having a separate counter, sink, and faucet to ensure no food contamination and prepare gluten free meals was essential.
This work area also featured a Zenith Calacutta Tuono quartz countertop. A mirrored backsplash creates the convincing illusion of a window to provide a bright and cheerful work area. Cabico's mirrored upper cabinetry also adds welcome light and depth to the overall kitchen.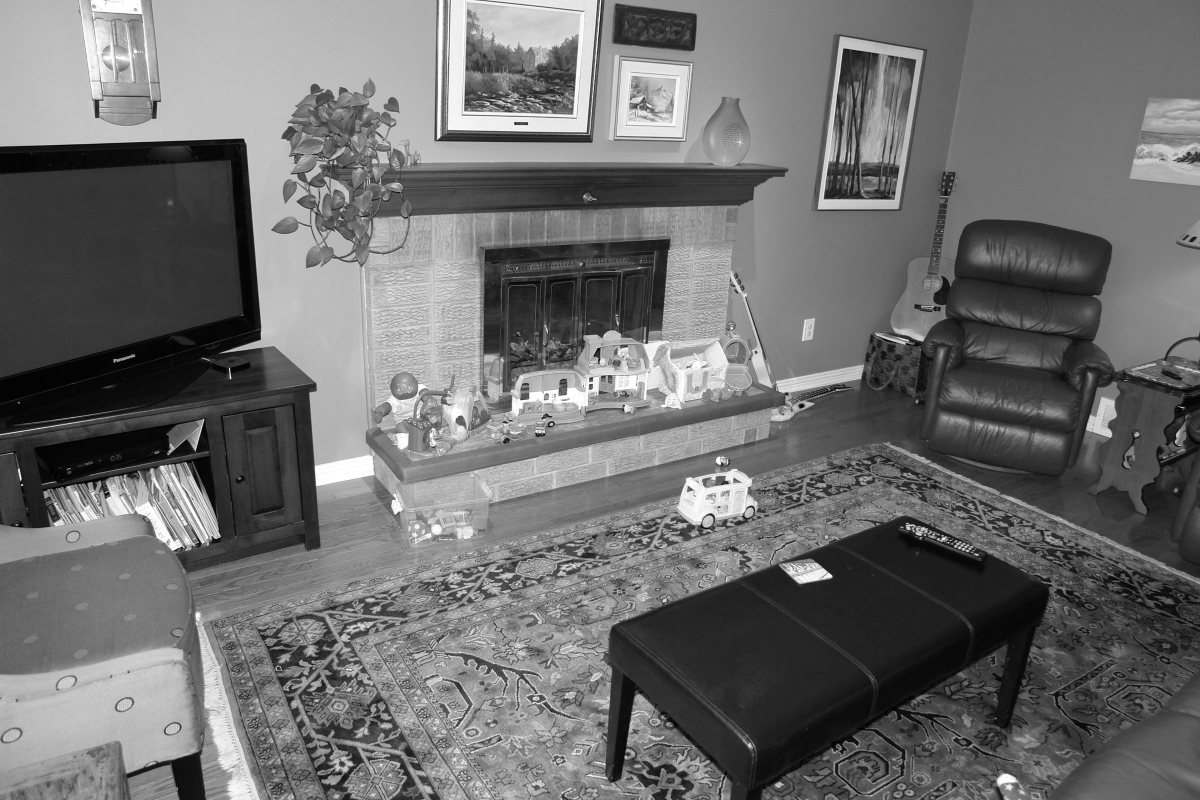 BEFORE: colours, placement, and clutter detract
This room shows how simple decluttering, rearranging many of the same room elements, and adding a new coat of warm grey paint to walls can dramatically transform a room!
Then add new black walnut flooring, a gas fireplace insert and decorative surround using the same gorgeous Calacutta Tuono quartz tile from the kitchen, and you have an elegant room with a "wow" factor. Check it out below!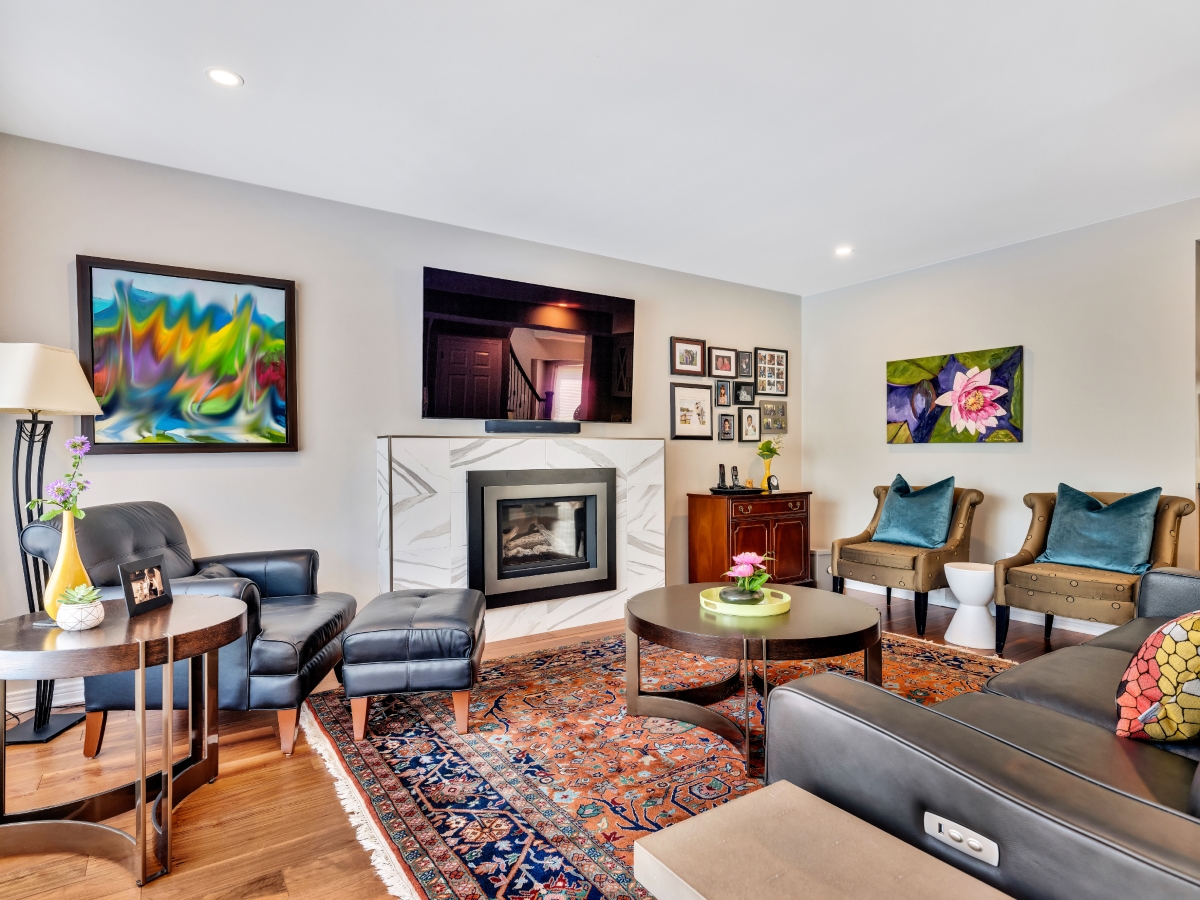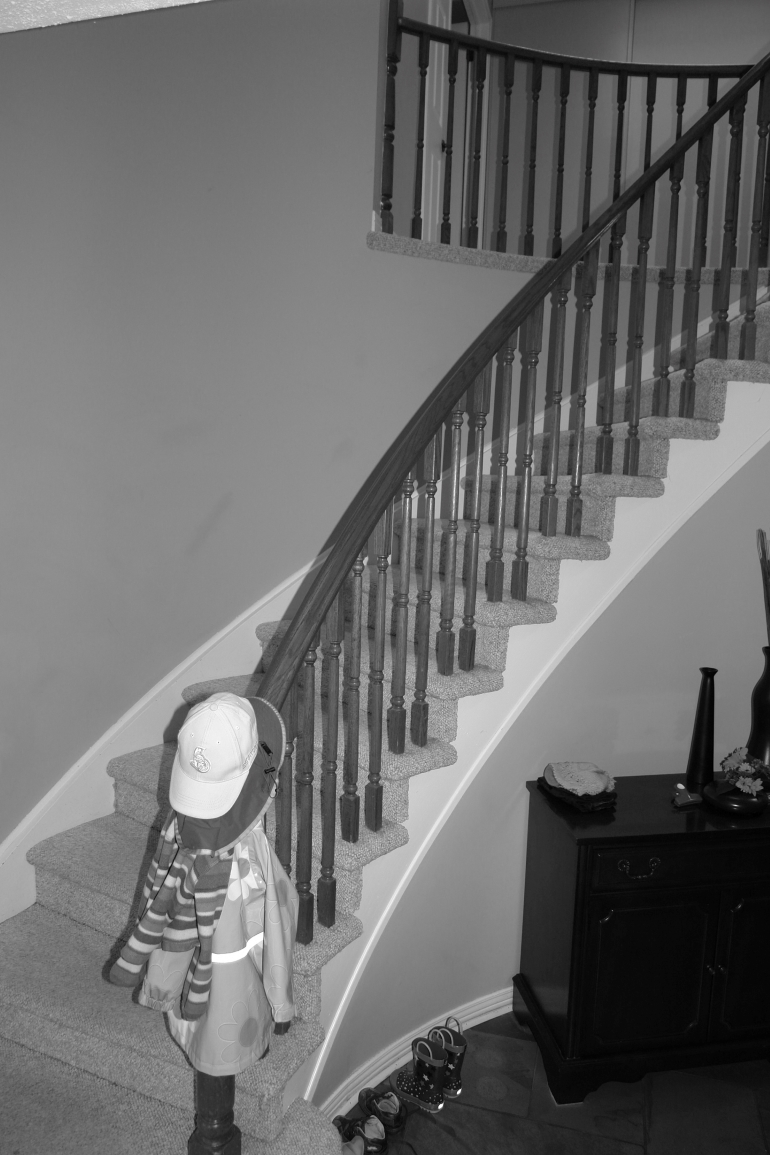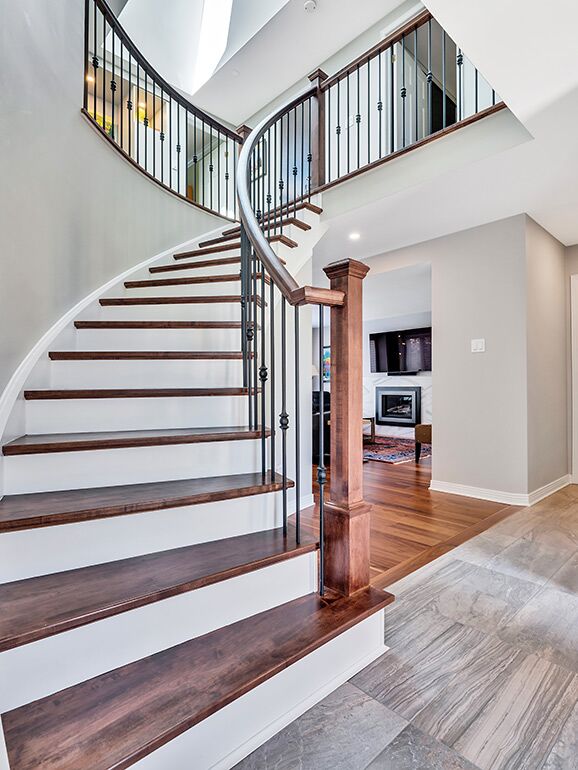 Arguably one if not the most striking feature of this home transformation is the curved wood and metal staircase.
Carpeting on the original staircase concealed beautiful hardwood treads. These were refinished and stained to match – as closely as possible – the new black walnut flooring.
Risers were painted white. A new base post, wooden banister and metal spindles, alternating with a decorative accent, were painted black.
New 12" x 24" porcelain tiles were also added to the entryway. These extended to the foot of the stairs and were chosen for durability and ease of maintenance – cleaning up those messy boots!
The result is a majestic entrance way and staircase that sweeps the eye and users to the second floor with visual style.
Powder Room: 4D Tile Adds Texture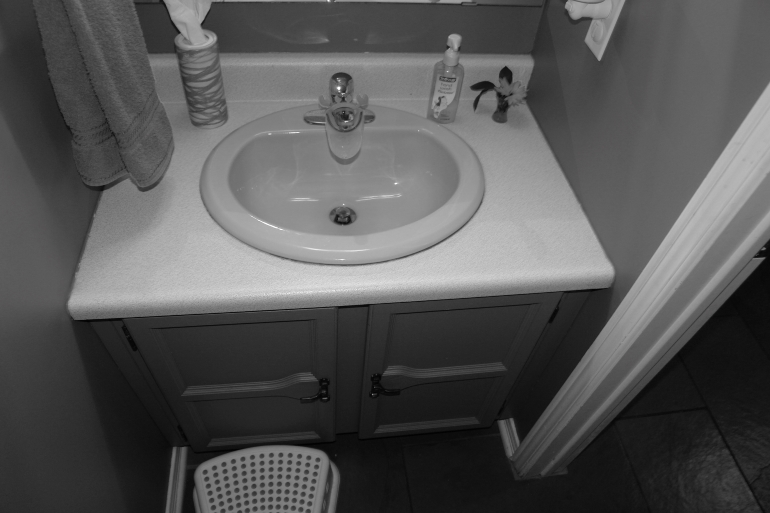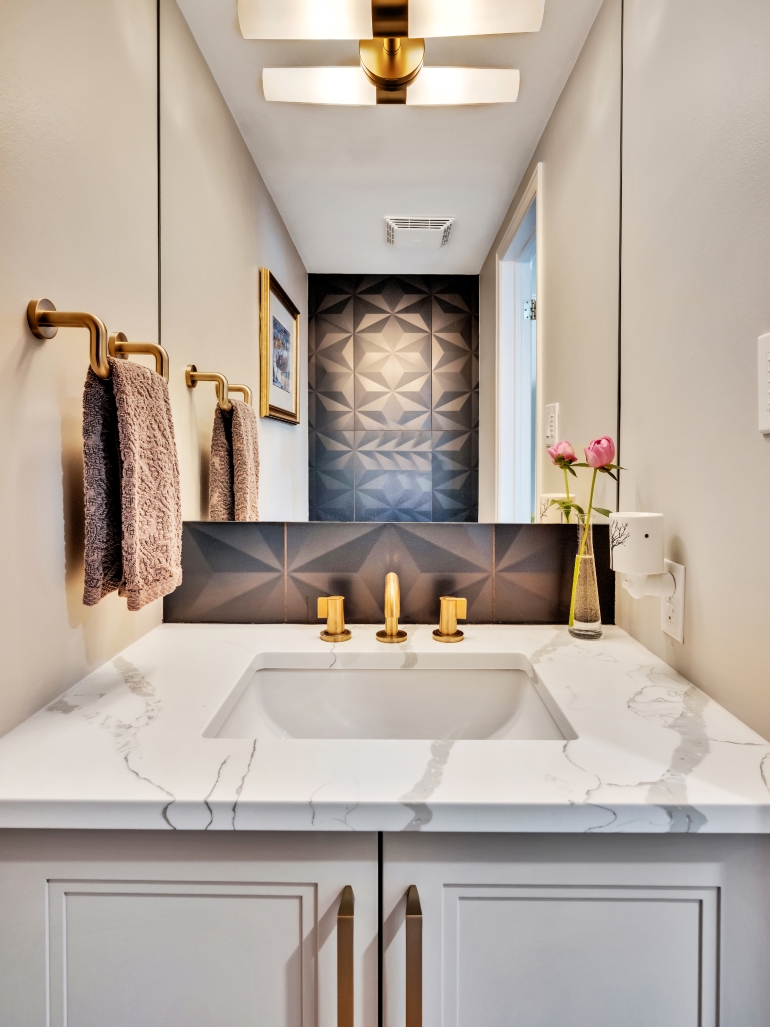 The wall tile reflected in the mirror is made from deep blue, 16" x 32" Progetto 4D ceramic tiles with a diamond pattern. 4D means the tile's surface is raised to give a unique, rich and distinctive look.
These tiles are also available in chevrons and hexagons from Ceragres, an interesting Canadian company and a leader in the ceramic and stone industry. It has been in business for more than 25 years with tile shops across Quebec, Ontario, and the Maritimes.
OakWood's Design Team also carried in several design elements from the kitchen including the Zenith quartz countertop and gold accents on hardware. Faucets are from Brizo's Brilliance Luxe Gold series giving the powder room a sophisticated, elegant look.
Design Centre Inspires
Inspiration for many design elements and material choices came from the OakWood Design Centre. These included the butcher block counter, mirrored cabinetry mirrors, tile styles and effects, lighting solutions, and various hardware options.
Is This The Same House?
New hardwood floors and accents, gold finishes on hardware, New paint throughout provided design continuity from room to room on both levels. All combine to give this house in Ottawa a lighter contemporary look while retaining its original coziness.
When neighbors with the same model of home in Ottawa came to see the renovation, they couldn't believe it was the same house. All to say, our clients were thrilled with the end results!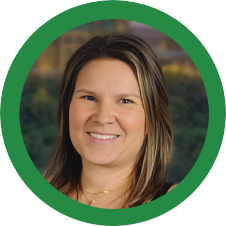 Patricia Liptak-Satov, OakWood, COO.
Patricia is dedicated to improving OakWood's approach and introducing new methods to ensure a responsive, customer centric company that exceeds client expectations.