Energy efficient materials and minimalist design create a stunning multi room, eco-friendly addition 
Not long ago, building green seemed like a trade-off. Yes, it was environmentally friendly and the right thing to do, but did it look sensational. 
Good for the environment and wallet
Today's green conscious homeowners are more fortunate. Green solutions have come along way in a short time. Building materials with recycled content, Energy Star certified windows, new toxin free insulation technologies and paints, energy saving solutions like the Tesla Powerwall and solar panels, are just a few of the many advancements. 
Solutions like these make it easier for homeowners to enjoy breathtaking design while doing the right thing for the planet – and ultimately their wallet.  
Grand vision for a new addition
This was the kind of thinking our client came to OakWood when the family outgrew their beautiful character home in the downtown core. Having been born and raised in Europe our client was right in-step if not ahead of the Green movement sweeping the country. 
Our client had a grand vision for an addition. Not just an "addition" but an environmentally friendly addition. The Team kept this vision front and centre throughout the design, material selection and build process. OakWood's High Performance solutions with a focus on energy-efficiency materials and healthy living were a perfect solution to bring this grand vision to life.
A foundation for success
It started with the foundation using ultra-green German designed Insulated Concrete Forms (ICF) foundation blocks. Usually concrete foundations are constructed by pouring concrete into temporary forms which are removed when the concrete cures. 
Foundations built with ICFs retain forms to provide insulation on both sides of the concrete foundation. As a result, walls made of ICFs can deliver exceptional insulation, as high as R40 to R50 or more.
Natural light 
Large, Energy Star certified windows were used to create bright spaces with lots of natural light, reducing the need for artificial lighting even on the gloomiest of days. Energy Star windows are independently certified to save energy without sacrificing performance.
Non-toxic materials
Exterior walls were made with marine plywood and corrugated metal which provides for a clean exterior design. Marine-grade plywood is a specially designed panel made of Douglas fir or Western Larch. It's a strong, durable wood that is not treated with any chemicals. 
The addition is capped off with a flat green roof with live plant materials. The single storey addition includes a new side entry and mudroom on the left-hand side of the house, new dining room, a new open basement stairwell, a new basement bedroom and new 3-piece basement bathroom, with dramatic before and after photos. All designed with a modern, minimalist perspective.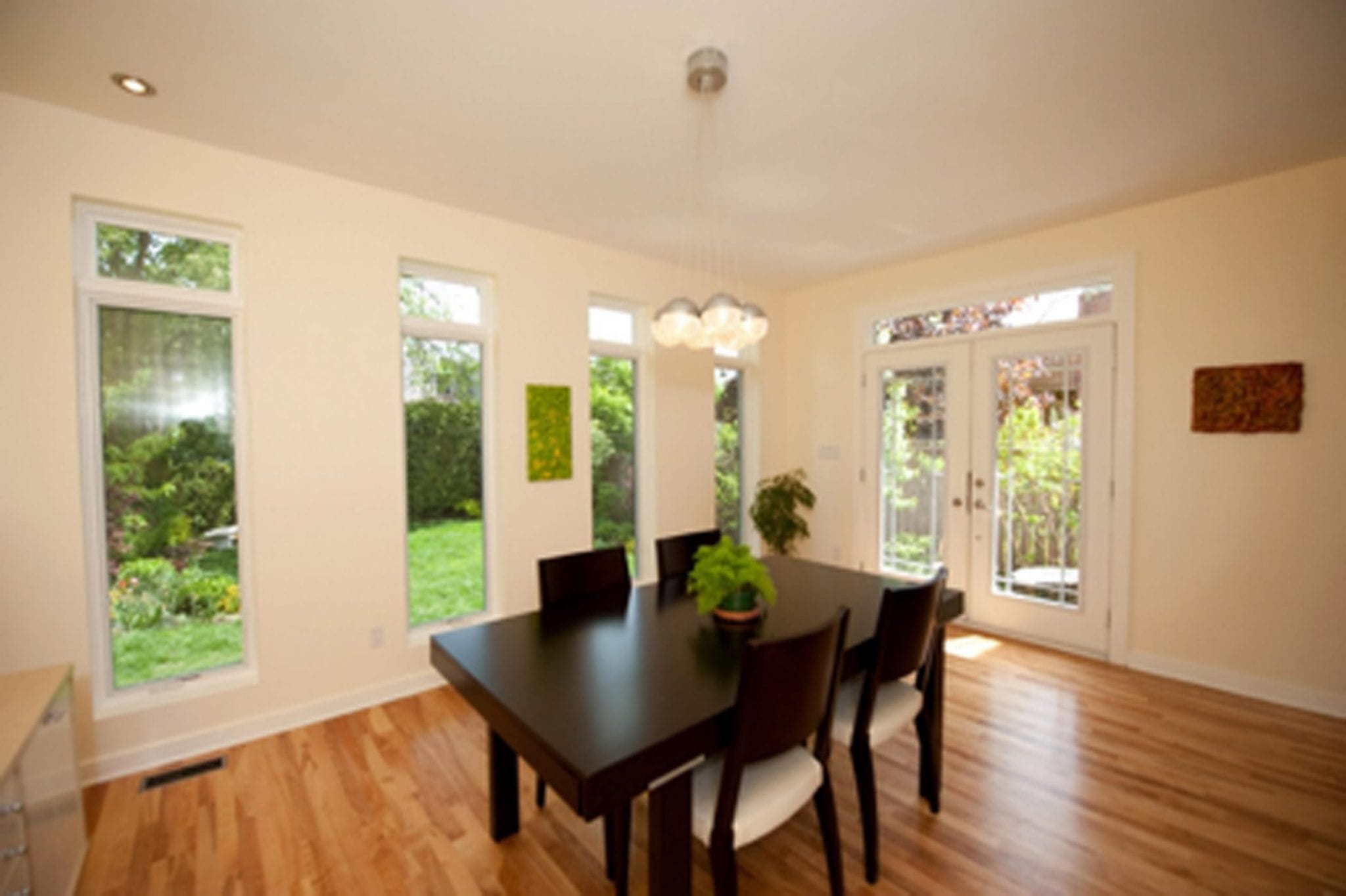 A spacious dining room (above) has lots of windows with grand views of the backyard. A statement wall by the staircase emphasizes the clean, ultra modern feel (shown at the top of the blog). 
Re-use, refurbish, restore
A stunning custom glass panel stairwell with stainless steel anchoring pieces (shown below) is almost a piece of art unto itself. The hardwood was harvested from another job site with materials that were going to be thrown away.  OakWood rescued these resulting in beautifully restored hardwood that ties into the existing home.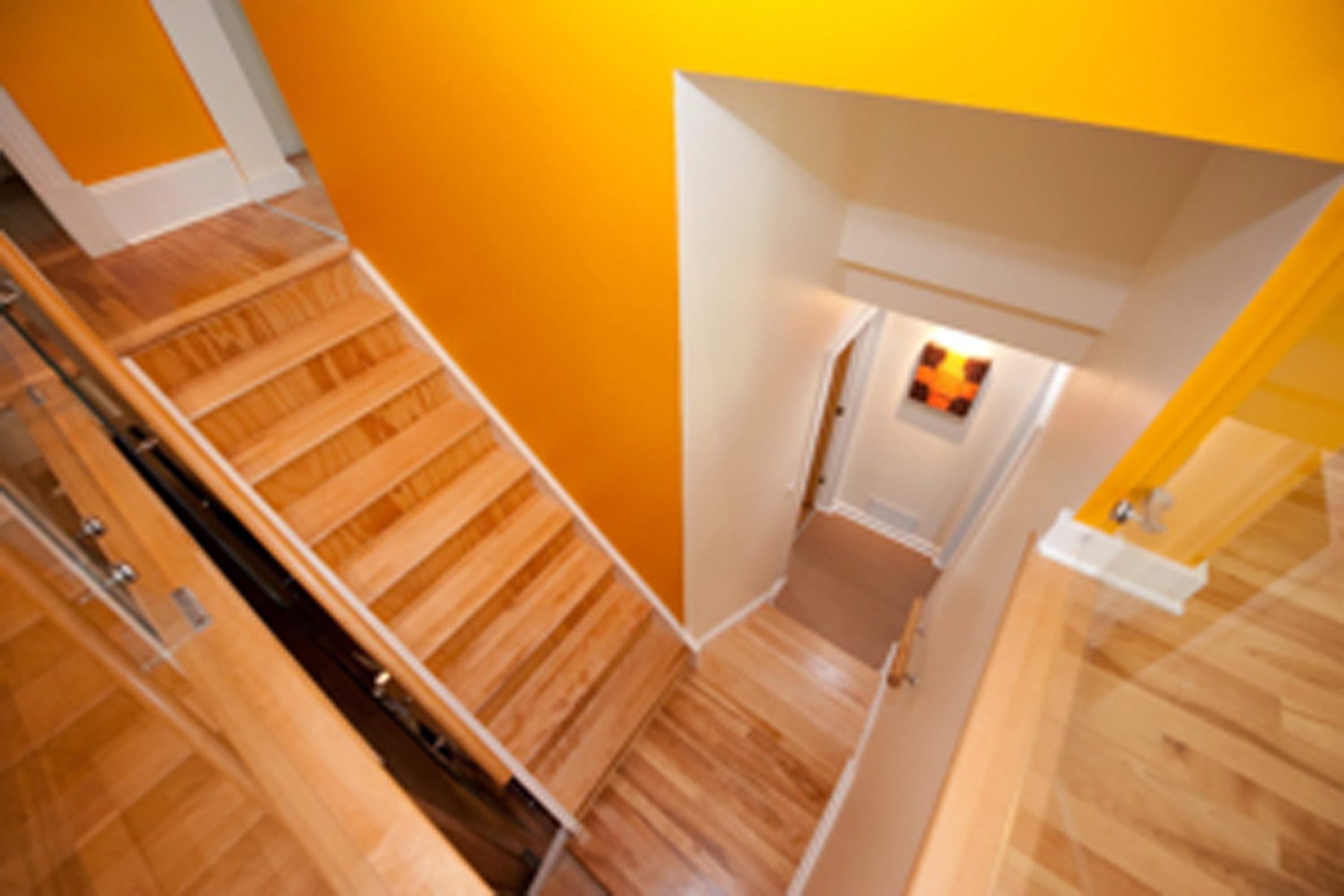 Breathtaking bathroom transformation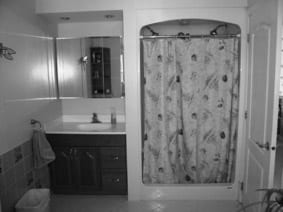 Before – a dated, tired bathroom typical of early Ottawa homes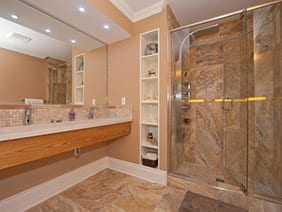 After – a spa like jewel with side-by-side sinks and a spacious walk in-shower
The end result is a study in understated elegance and simplicity. Minimalist, modern and beautiful. Built using eco-friendly, energy efficient materials. Green is indeed beautiful!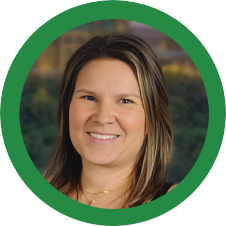 Patricia Liptak-Satov, OakWood, Vice President Operations. Patricia is dedicated to improving OakWood's approach and introducing new methods to ensure a responsive, customer centric company that exceeds client expectations.