OakWood Becomes Ottawa's First & Only Construction Company to Accept Bitcoin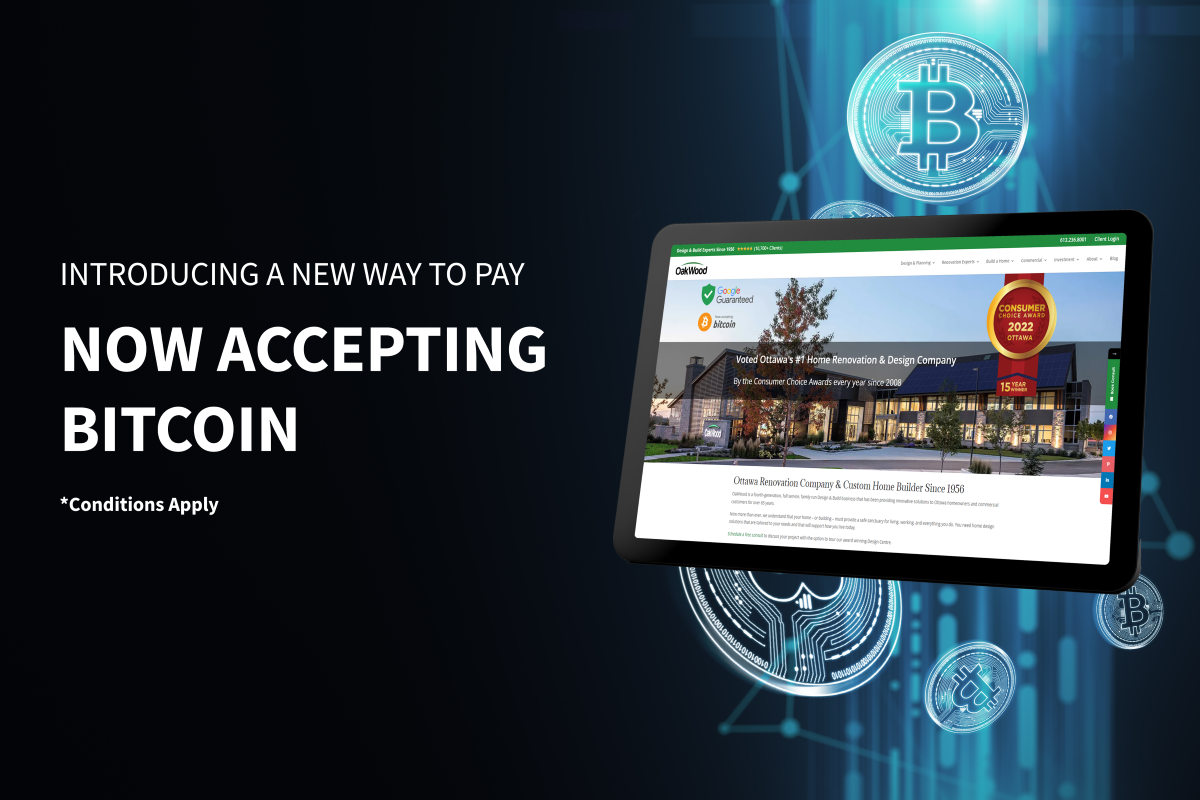 OakWood Designers & Builders, Ottawa's largest and most established design & build company, announced that it will be accepting Bitcoin from clients and businesses as a portion of payment for their products and services.
"OakWood is a company that has always been at the forefront of new and innovative technologies – from adopting the most modern and efficient building practices and materials to integrating advanced construction and computer technologies – we are always looking towards the future to see how we can improve our processes and ultimately create a better experience for our clients. We see the adoption of cryptocurrency and distributed ledger technologies as the logical next step for bringing OakWood into the digital era." says John Liptak, President & CEO of OakWood.
OakWood is joining the ranks of many established and forward-thinking companies that have also begun accepting Bitcoin as payment such as Microsoft, Shopify, PayPal, Overstock, Home Depot, and the Dallas Mavericks, just to name a few.
Blockchain technologies offer several advantages compared to traditional payment methods such as old paper cheques, and even electronic payment methods. Due to the peer-to-peer nature of the technology, transactions do not require a trusted third party to process payments which can result in significantly lower transaction costs than are typically associated with banks and electronic payment processors. Many commercial banks will charge fees for incoming wire transfers and most credit card providers will charge up to 2% or more per transaction. For transactions that are in the range of tens of thousands of dollars, these fees can quickly add up, eating into the profits of the company. Cryptocurrency transactions can be done at a fraction of this cost.
Another advantage of cryptocurrency is that payments are processed much quicker on the blockchain compared to traditional payment processors. Funds can be deposited into your account in under an hour and instantly converted into cash, cutting down the time it takes to get paid, compared to hours for some wire transfers and potentially days for cheques and credit card payments.
OakWood also sees the adoption of blockchain technologies as a way to service a rapidly growing new generation of young homeowners. With many young and affluent customers entering the home buyer market, this new generation is increasingly demanding alternative options for payments, and cryptocurrencies offer another way to accommodate this new technology-savvy customer base while also providing an extra layer of protection for their information.
"For most of our clients, this won't change anything and they will be able to continue using our services without having to think about Bitcoin or cryptocurrency. We are simply offering another way to facilitate secure payments for those who prefer to use digital currencies." says Patricia Liptak-Satov, Chief Operating Officer at OakWood
About OakWood Designers & Builders
A fourth-generation, family-run business with over 65 years of experience, OakWood specializes in the design and build of high-quality custom homes, renovations, investment properties, and commercial buildings that are energy-efficient, technology enabled, healthy, and built using the eco-friendliest products and construction practices. OakWood's comprehensive service offering includes: Architectural 3D Design, Project Planning, Feasibility Analysis, Custom Homes, Renovation Experts, Age-in-Place, Safe Homes, Infill Lots, Estate Lots, Commercial Services, Investment Properties, Land Development, Property Management, and Project Financing
FOR MEDIA INQUIRIES, PLEASE CONTACT:
Patricia Liptak-Satov, COO
OakWood Designers & Builders
613-835-9000 x116