Reclaimed wood flooring. A dramatic mirrored coffer ceiling. Interesting angles. These are a few of the outstanding features of this unique renovation.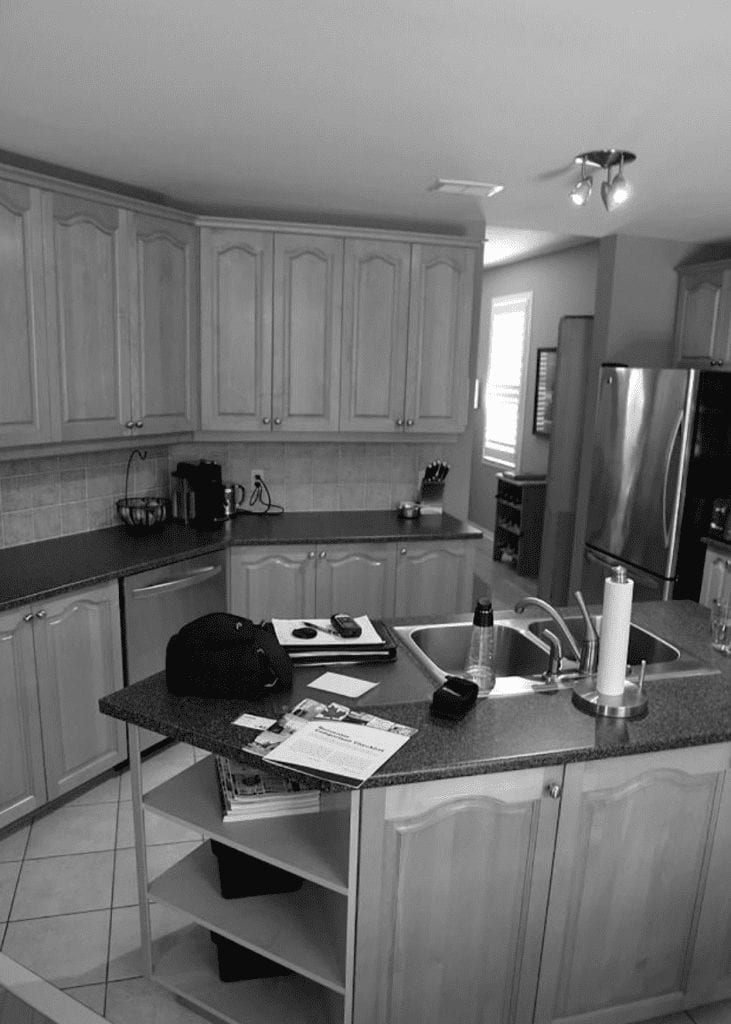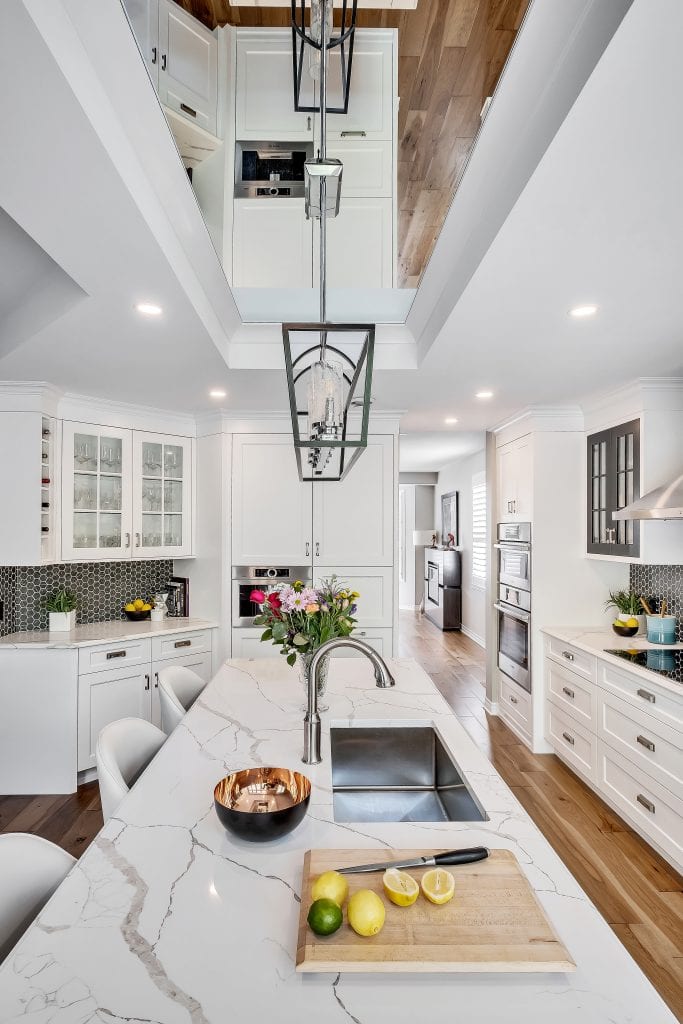 This is an inspirational story about a kitchen renovation in Ottawa that was almost two-decades in the making. Our client bought their dream home in the late 90s. Since then, they've come to know their kitchen very well. 
As loved as their home and kitchen was, it was time for an update and refresh. They wanted help developing a clear vision for a thoughtful transformation guided by a list of well-lived "likes" and "dislikes". 
Discovery questions   
Kitchens are typically designed around routines and lifestyle. Key questions the OakWood Design Team asked to understand how the kitchen would be used and help these homeowners develop a clear vision to guide their material choices included:  
Do you do a lot of take out and Uber eats on the run? Or are you a foodie and gourmet chef? Will you need space for eating or dining?

Do you prefer a more casual eat-in kitchen with bar stools at a counter or something more formal?

What are the must have inclusions?

How much storage space do you want?

What do you want visible and on display?

What colours and material choices will expand the space?

Do you want to retain or expand the kitchen's footprint?

What type and shape is desired for the of countertop would work best?

What finishes and materials are you thinking about?

What type and style of sink would work?

What finish should the backsplash, countertop, and flooring have? 

What type of flooring solution are you interested in?
Interesting angles
From these and many other questions a coherent vision for design elements and materials emerged. A larger eat-in area while retaining the same overall layout and footprint was desired. 
However, two distinguishing features of the original kitchen was the use of interesting angles and a coffered ceiling. You can see both in the before photos below. Our client wanted to preserve these while giving their kitchen a more open, elegant, brighter, and sophisticated look.   
Layout changes
The OakWood Design Team proposed replacing the kitchen table with larger island, rotated so this would provide a larger surface area and accommodate bar stools. 
A small, dysfunctional desk with drawers by the side window was eliminated in favor of a larger pantry. The location of the fridge, stove, and microwave oven changed to make better use of the existing space and create better flow.  
BEFORE: 
A monotone colour palette offered little sparkle or contrast between floor, cabinetry, and table, giving the kitchen a dark, cramped look.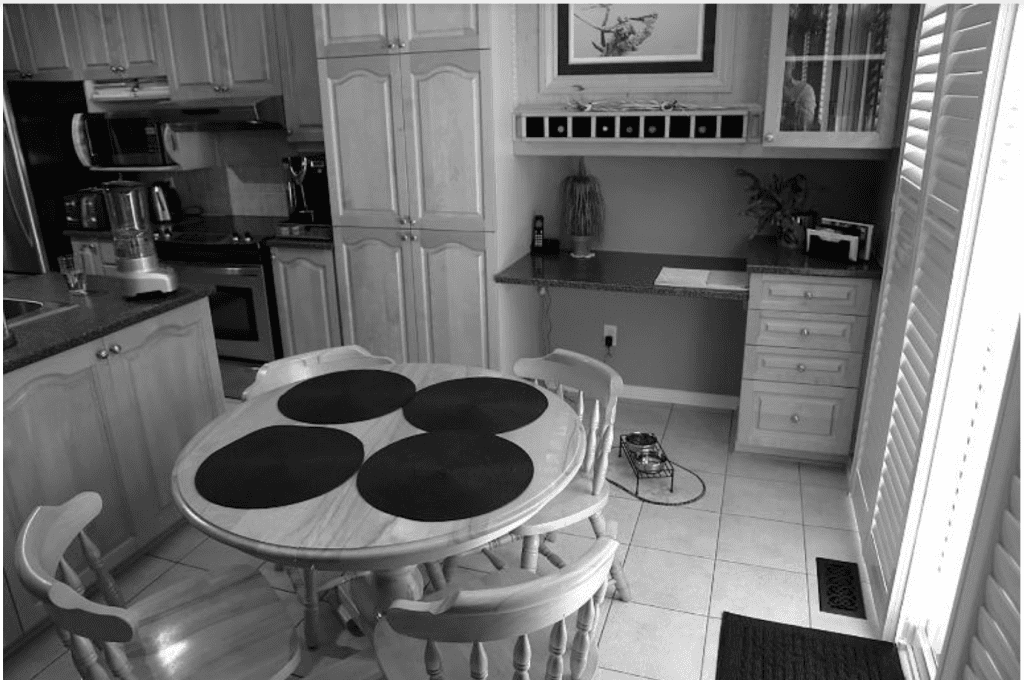 AFTER: 
Hickory flooring provides warmth and delightful contrast against white MDF cabinetry, creating a more sophisticated look that emphasizes unique design elements including the original angled walls and a stunning new hanging light and mirrored coffered ceiling.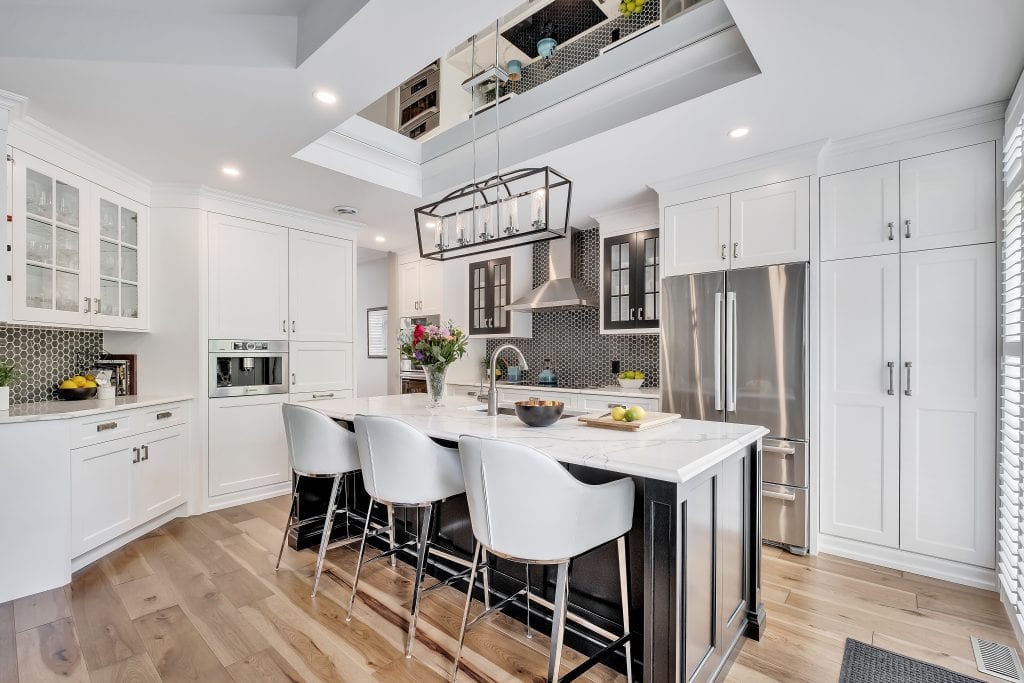 KEY FEATURES
Mirrored coffered ceiling
The original kitchen ceiling featured an interesting but underutilized coffered ceiling. The OakWood Team saw the potential and recommended adding a mirror to create a striking visual element while instantly brightening and expanding the room. 
The mirrored ceiling reflects the details of surrounding cabinetry and the hanging light, making a strong visual statement while creating the illusion of a skylight.
The original coffered ceiling and light fixture.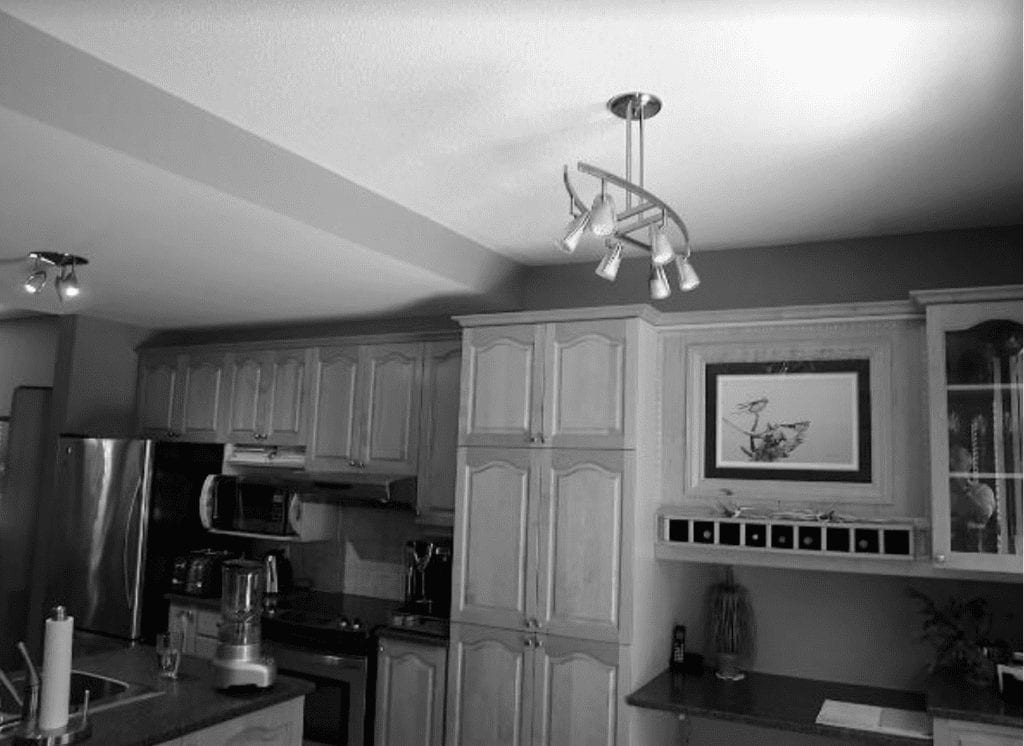 The OakWood Design Team transformed the coffered ceiling into an sophisticated accent with an inset mirror and five-light linear chandelier.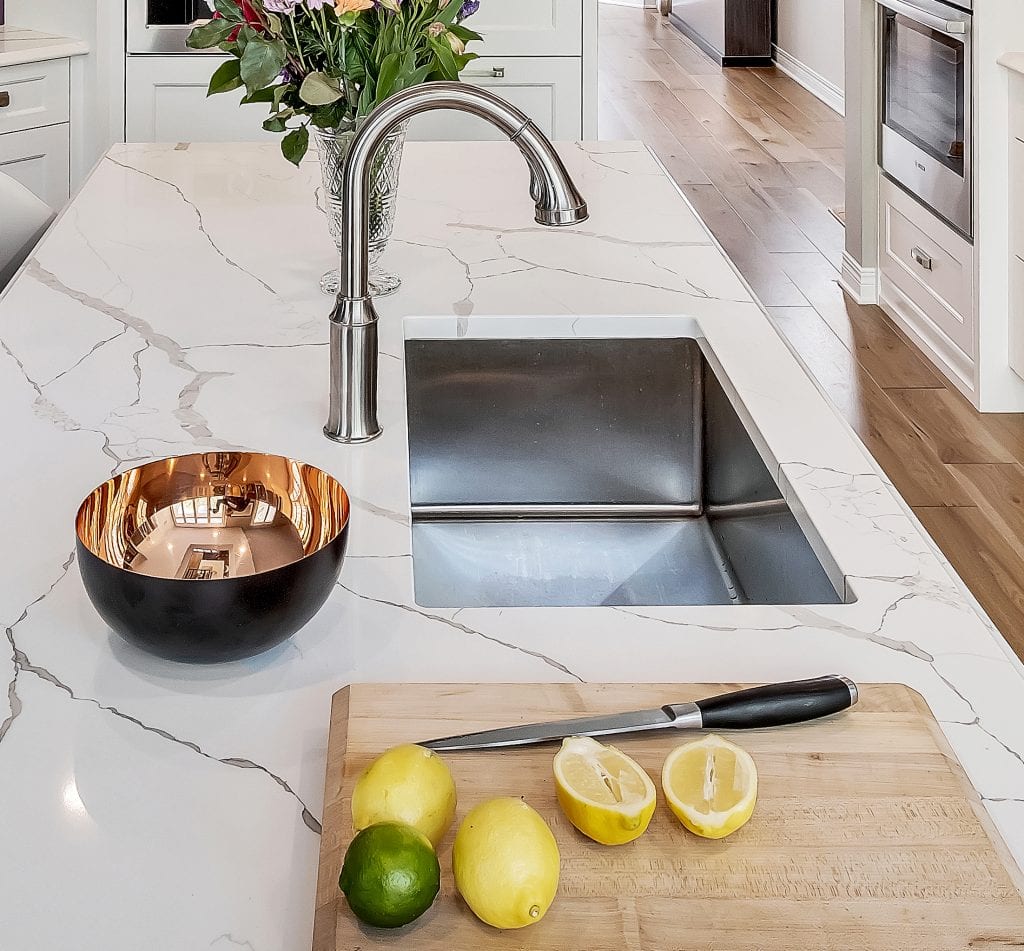 Simple, open cage light
A modern, open cage, five-light linear pendant from the Mercer collection was chosen.  The chandelier features beautiful clear seeded glass cylinder shades. A black  finish steel with chrome accents creates simple, bold graphic lines that complement other timeless design elements.
Inspiration for this stylish pendant was found at the OakWood Design Centre where a similar light is used as a stunning accent in a fully functioning display.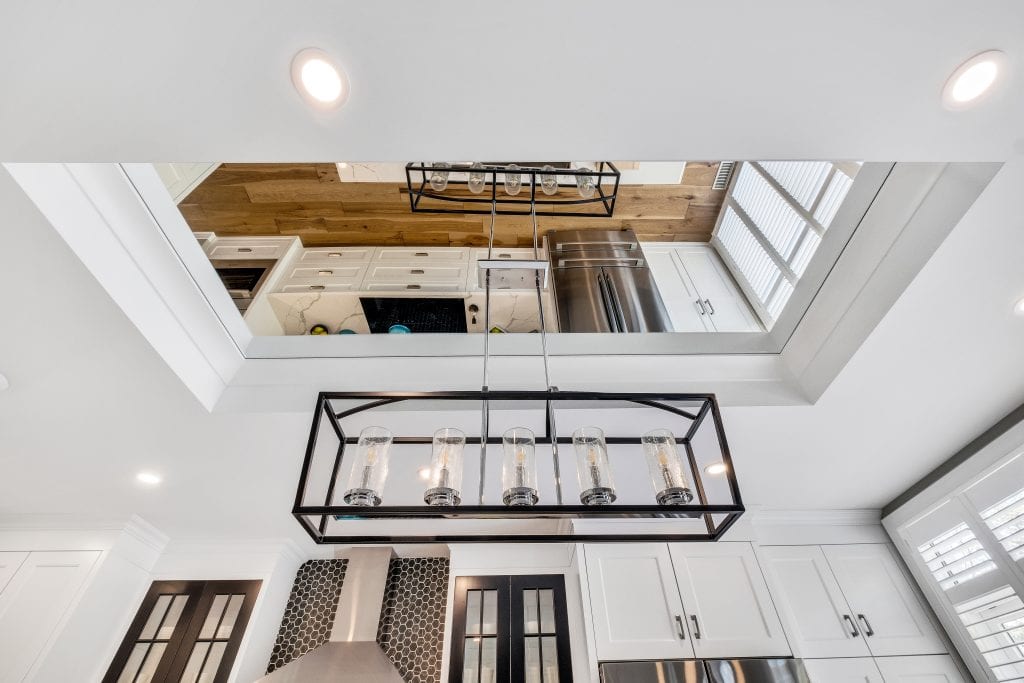 Eco-friendly reclaimed hardwood flooring
Beautiful, engineered hickory wood with a difference was chosen for the floor. Instead of using wood that comes from new growth trees, this comes from "lost timber" Specifically, much of the wood comes from logs recovered from diving operations conducted by Logs End on the Ottawa River, its tributaries and small lakes! 
Based in Ottawa, this Canadian owned company is the country's leading supplier of historic old growth flooring, which is distributed around the world. The company focuses on retrieving lost timber from the glory days of 19th century Ottawa-Valley logging operations.
OakWood is proud to offer the eco-friendly products of this innovative flooring company. Their authentic products enable our clients to celebrate our shared Canadian heritage. 
Custom cabinetry from a Canadian artisan
Choosing cabinetry is a process unto itself. There are many considerations that many clients don't know about. In fact, cabinetry has a language of its own: face frames, box, toe kicks, hinges and slides, knobs and pulls, stains and finishes, raised panel and Shaker doors – to name a few. 
Add in species options, custom stains and finishes, and cabinetry options can get complicated in a hurry.
OakWood's Design Consultants led a discover process to identify preferences and provide design guidance.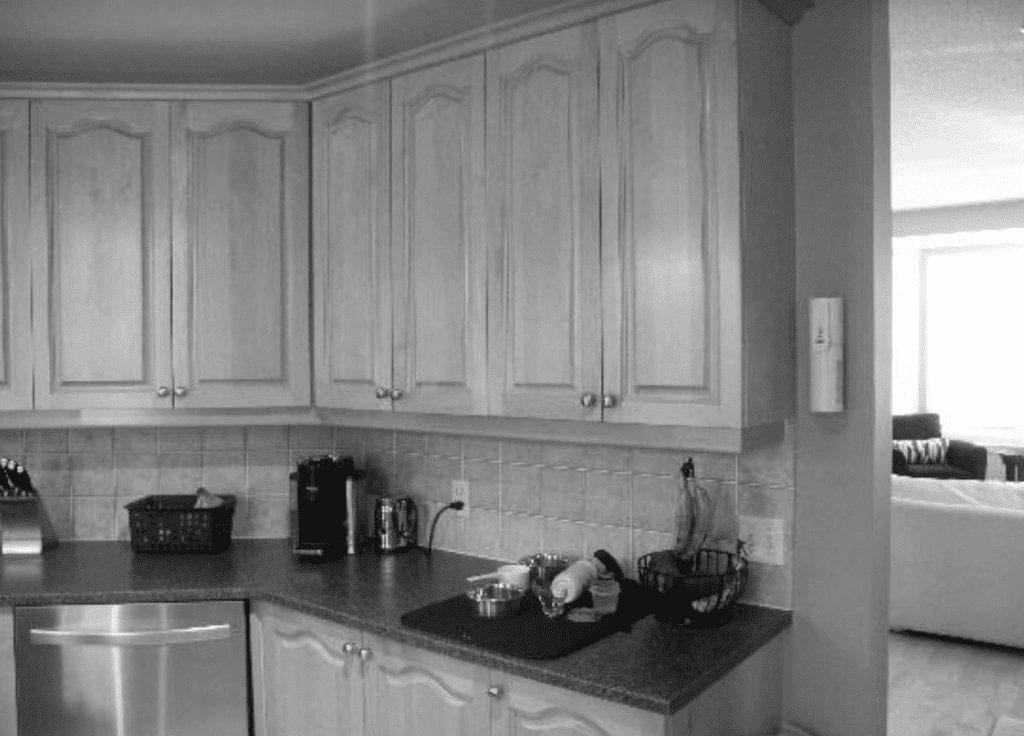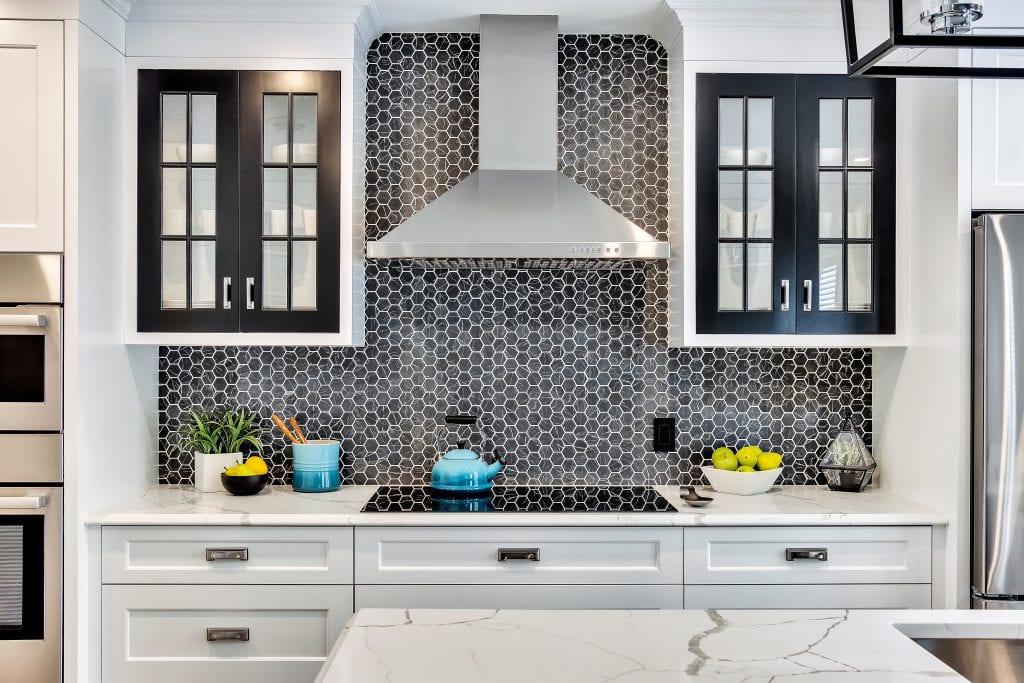 Our client decided on the Elmwood series from OakWood's exclusive cabinetry partner Cabico for the island base, finished in Maple with a dark carbon stain. This gave them infinite options and design possibilities while guaranteeing an exact fit – and no messy fillers or gaps. 
All doors and drawers are soft closing to stop them from banging while opening easily every time. The Elmwood series is also proudly handcrafted by seasoned artisans in Cabico's plant in St. Catharines. 
For all upper and lower cabinetry, our client chose MDF from Cabico's Unique series, finished in low pure white for all upper and lower cabinetry.
Zenith quartz countertop with Ogee edge
Zenith quartz is an engineered stone manufactured from 93% quartz crystals. Spills from coffee, oil, vinegar, make-up? No problem. The surface is extremely stain resistant to acids, common products and general wear and tear. All that's required to clean is a non-abrasive scrub pad. Then buff to a sheen with a damp cloth.
Instead of a traditional square or bullnose edge, our client chose an ogee edge to finish the countertop. This helped provide more detail from the subtle colours of the quartz while creating a more traditional look that also tied in nicely with the crown moulding that can be seen throughout the kitchen. 
Looks like black marble…but it's not!
The backsplash is glossy black glass honeycomb tile. At first glance it looks very much like marble. However, glass tile has the advantage of being impervious to stains and is very easy to clean while providing a contemporary, sophisticated look. 
Set against the white MDF cabinetry, the backsplash helps give the kitchen a real "pop". You can see how this design feature creates important contrast and depth in the image below.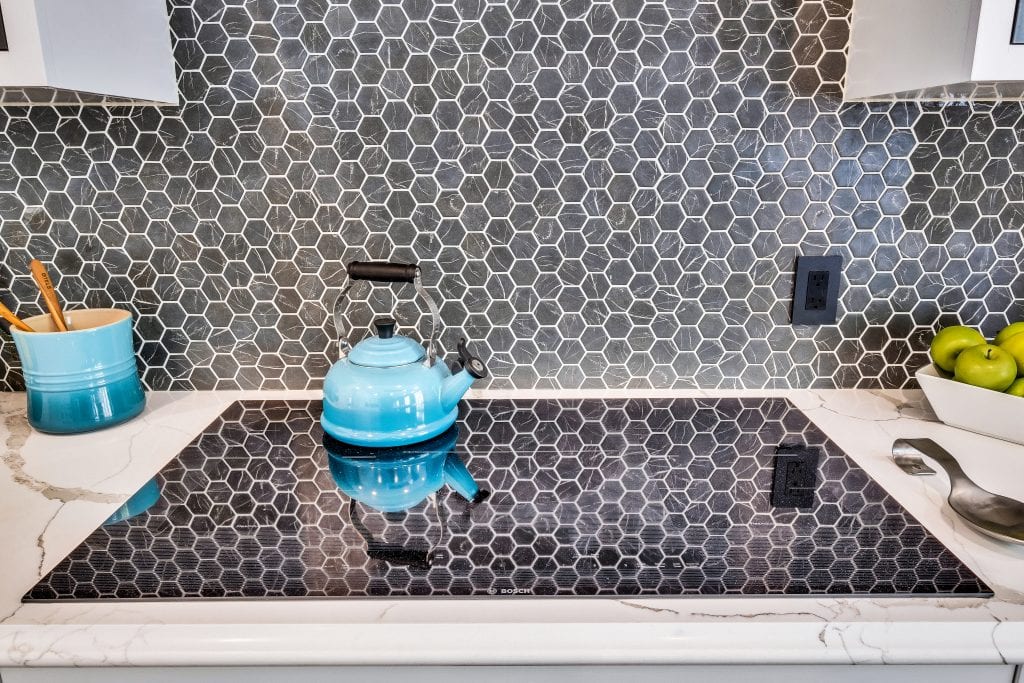 Single bowl sink
A 31" single bowel stainless steel sink from Novanni, a 100% Canadian owned company, was chosen. 
Novanni stainless sinks have the advantage of being made from 90% recycled materials and at the end of their lifecycle are 100% recyclable. 
Stainless steel has the advantage of being extremely durable, will not crack, are stain resistant and they're super easy to clean.
Interesting factoid: stainless steel is a low carbon steel that contains chromium at 10.5% or more by weight. Chromium is the secret ingredient that gives stainless steel it stainless, corrosion resistant properties.
The faucet selected is a streamlined, timeless design from Hansgrohe.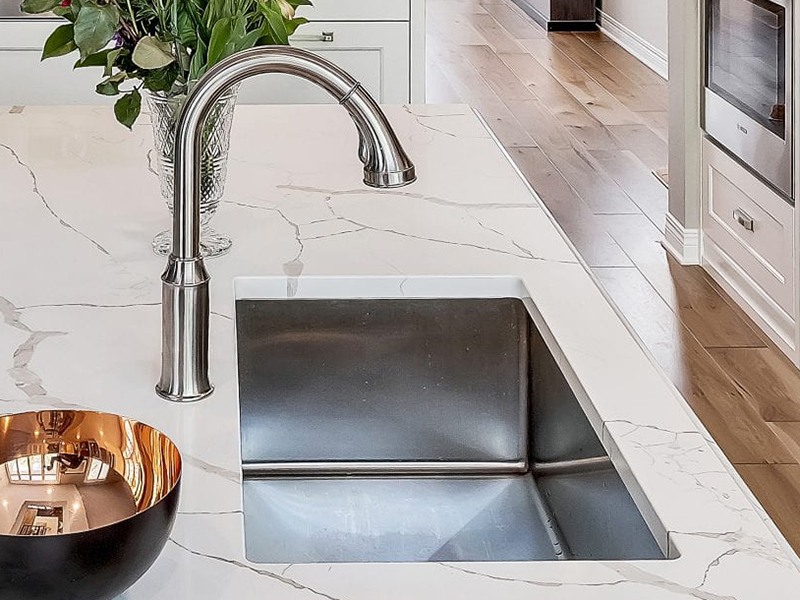 Appliance details
A Bosch cooktop, double wall oven, fridge, dishwasher, and coffee machine were supplied by our client and installed by OakWood's certified trade professionals. 
The range hood is Venmar from the VJ Series. The hood features a brushed stainless steel finish for easy cleaning and three-speed, high performance fan with push button control with LCD interface.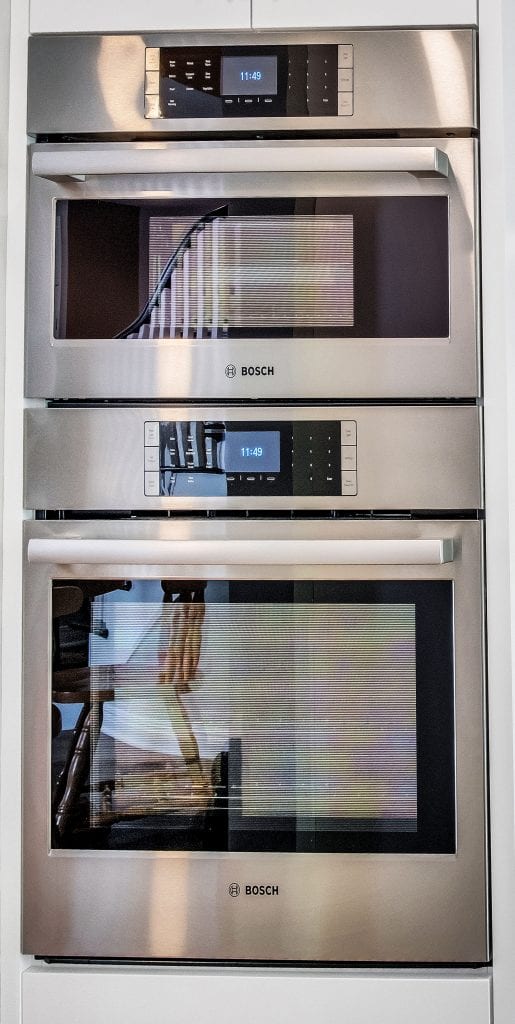 Ready for another 20 years!
Our client is thrilled with their dramatic kitchen transformation. While they loved their dream home from the day they moved-in, this sparkling update adds to their home value on so many fronts. 
They're enjoying a more functional layout – within the footprint of the existing space. 
The design preserves the unique angles of the original kitchen.
Big improvements in storage.
Products that are chosen for ease of maintenance and their eco-friendly chops.
The end solution is an elegant, sophisticated look that's at once practical yet beautiful. 
Patricia Liptak-Satov, OakWood, Vice President Operations. Patricia is dedicated to improving OakWood's approach and introducing new methods to ensure a responsive, customer centric company that exceeds client expectations.