A dark, dated, early 80s home is transformed into a sparkling contemporary jewel
Love it or leave it
This is a familiar story to our design team. A homeowner loves the location of their home and established neighborhood with its mature trees. But their home feels dark, dated, and tired. 
They hum and haw about moving. "Do we sell and move to get the features we're looking for?" And lose those lovely mature trees and our neighborhood!  
In the end they decide to stay and completely renovate. 
This is the story of one family that made this decision. They wanted something modern and contemporary, with a better space plan to fit their family.  They turned to Oakwood for inspiration and design ideas. Here's their story.
Traditional two-story built in 1983
As with many homes built in the eighties, separate rooms were planned for a kitchen, living room, dining room, office, etc. 
That's very functional. But it also results in a lot of walls. Even large homes can feel smaller, if not cramped. Real estate ads call them "cozy." While that's' not always a bad thing, our client wanted something completely different.
Back to the studs
After brainstorming and discussion with the OakWood Team, a decision was made to take the interior main floor down to the studs and redesign it to have an open, airy look and feel. That meant relocating the existing main floor office and removing a wall to allow for more kitchen space and a hidden pantry. 
Inspection reveals asbestos
Testing unfortunately revealed the presence of asbestos which needed to be removed before construction could begin. It wasn't a big deal because the plan was to "gut-to-the-studs" for this project.
However, many homeowners don't realize that under the Occupational Health and Safety Act (OHSA), homes built between 1930 and 1990 must be surveyed to ensure no asbestos is present. Stiff fines can be issued to contractors who don't test or remove asbestos safely.
Stairway to heaven
To completely transform the front entry a stunning new open riser staircase was planned. This featured an engineered glass wall with structural wood-strings stained and finished in black. 
Open risers also resulted in an uninterrupted view from front entrance through to the back of the home.  The before and after photos included here show you how dramatic this transformation was.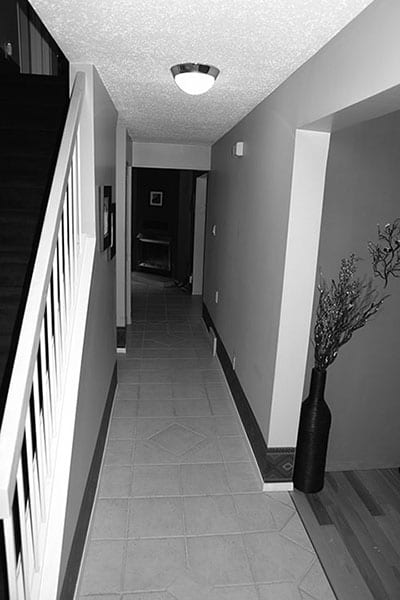 BEFORE: a conventional entrance and practical staircase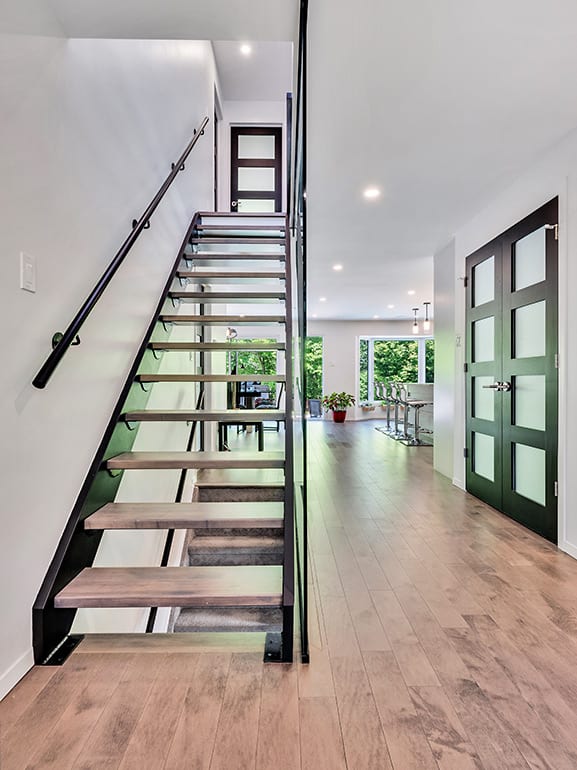 AFTER: a grand entrance and ascent to the second floor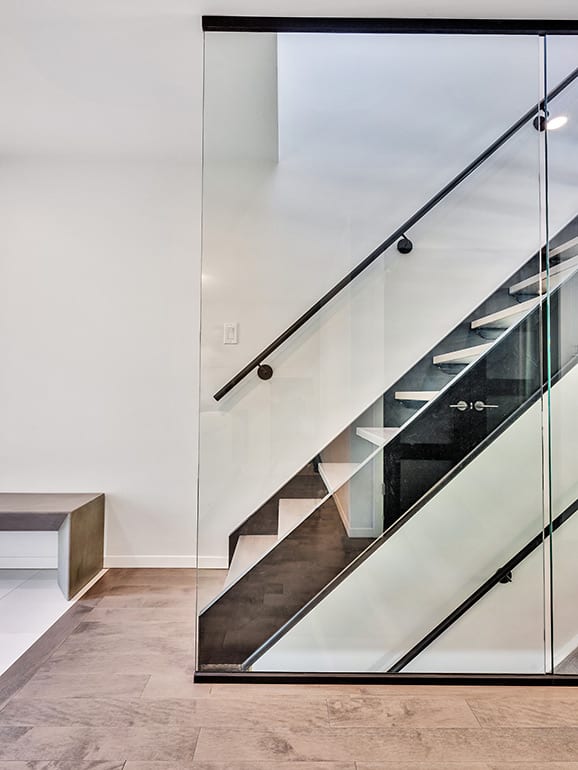 A side profile of the staircase shows the floor to ceiling engineered glass wall
Material selection made easy
Inspiration for colours and materials began at the OakWood Design Centre. Many of the design elements from our fully functioning display kitchens and bathrooms found their way into the final approved design. 
Here's a sample of the materials our clients picked for their kitchen:  
Bosch double wall oven, microwave drawer, and warming drawer

A kitchen island with a Blanco granite composite sink, which has the advantage of being scratch resistant, easy to clean, and available in assorted colours 

A striking backsplash composed of polished Porcelain Statuario slabs, cut around the kitchen windows – the same slab was used as millwork inside the kitchen window frames to ensure a consistent, seamless look

Expanded windows for more natural light 

A hooded fan, cook top, and dishwasher by Miele 

Hansgrohe faucets were used throughout the project including the bathrooms, powder room, and ensuite bathroom
Custom cabinetry for creative freedom
Our client took advantage of OakWood's line of custom cabinetry handmade by Cabico. This ensured greater creative flexibility and an exact fit for several non-standard measurements and sizes. 
For this project, they chose white MDF with a high gloss finish from Cabico's Unique series. Cabinetry includes a generously sized hidden pantry for extra storage, keeping messes out of sight allowing this kitchen to shine uncluttered. 
Practical, durable flooring
Pre-engineered wood flooring from Lauzon was used to provide a warm tone throughout the home to complement the cool, modern colours. This comes pre-finished and ready to install. Pre-engineered flooring has all the beauty of natural hardwood while being easier to install and it deals with moisture better than its solid hardwood counterpart.
Pulling it all together: the finished kitchen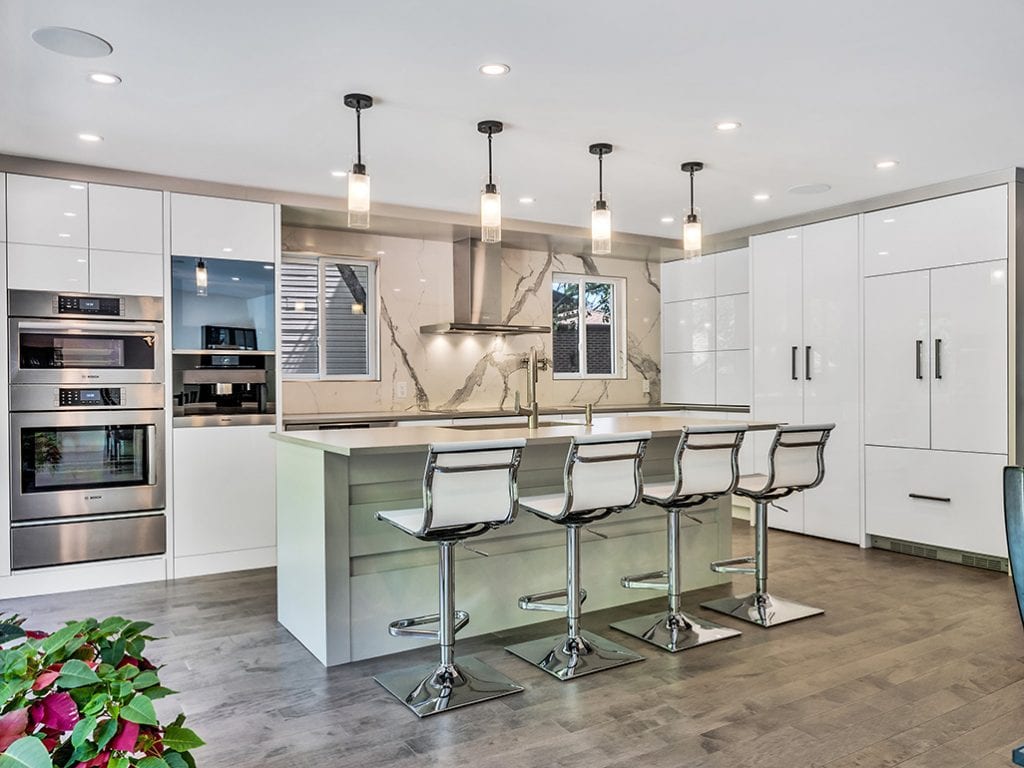 Practical yet dazzling! 
Wood burning fireplace brings charm
Although gas fireplaces are extremely popular, nothing beats the ambiance and warmth of an old fashioned, wood burning fire – nicely updated with a modern approach! 
Shown below is the transformed living room featuring a gorgeous fireplace with porcelain tiles finished with a concrete look to give the room an urban, modern feel.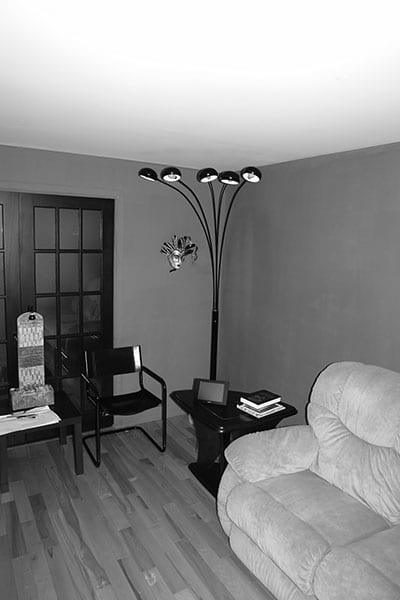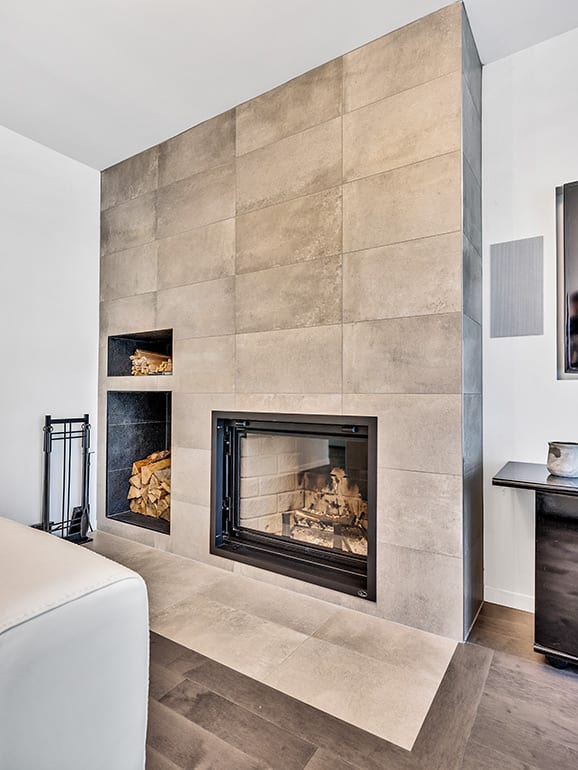 Second floor makeover 
Heading upstairs to the second floor, a new master ensuite now matches the rest of this modern home. 
The laundry room was also relocated to the second floor to maximize space utilization. This allowed for a much larger mudroom on the main level. A front load, high-efficiency Maytag washer and dryer with a metallic slate front reinforced the modern theme.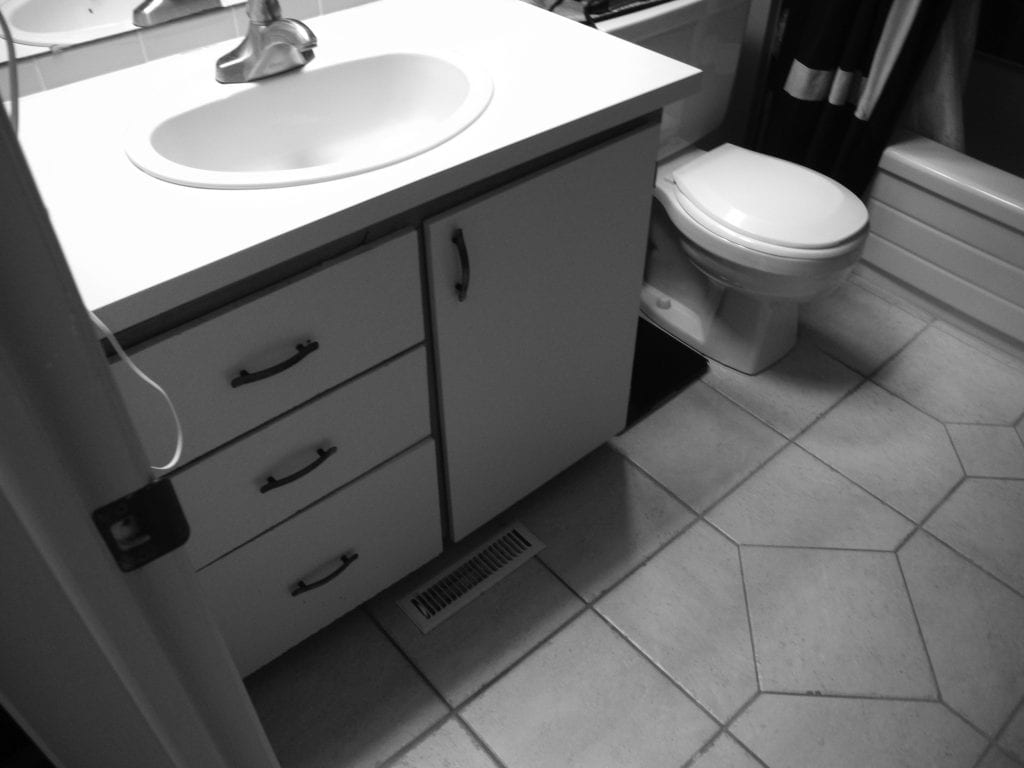 A typical circa 1980s bathroom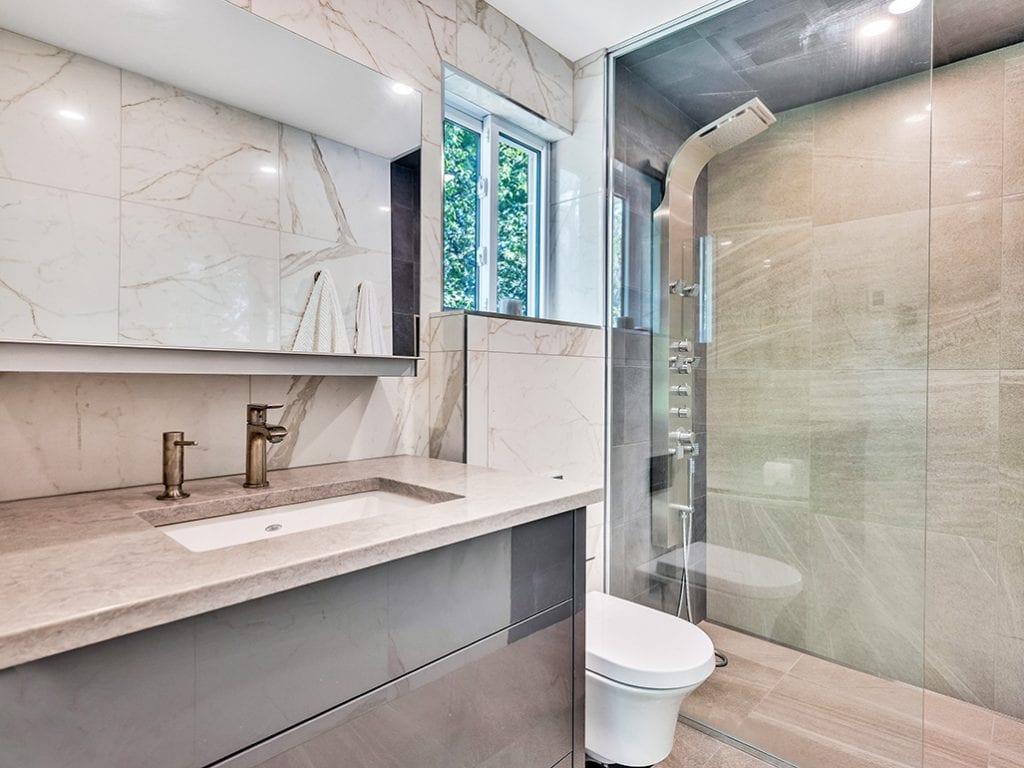 Neutral tones and polished porcelain create a welcoming spa-like feel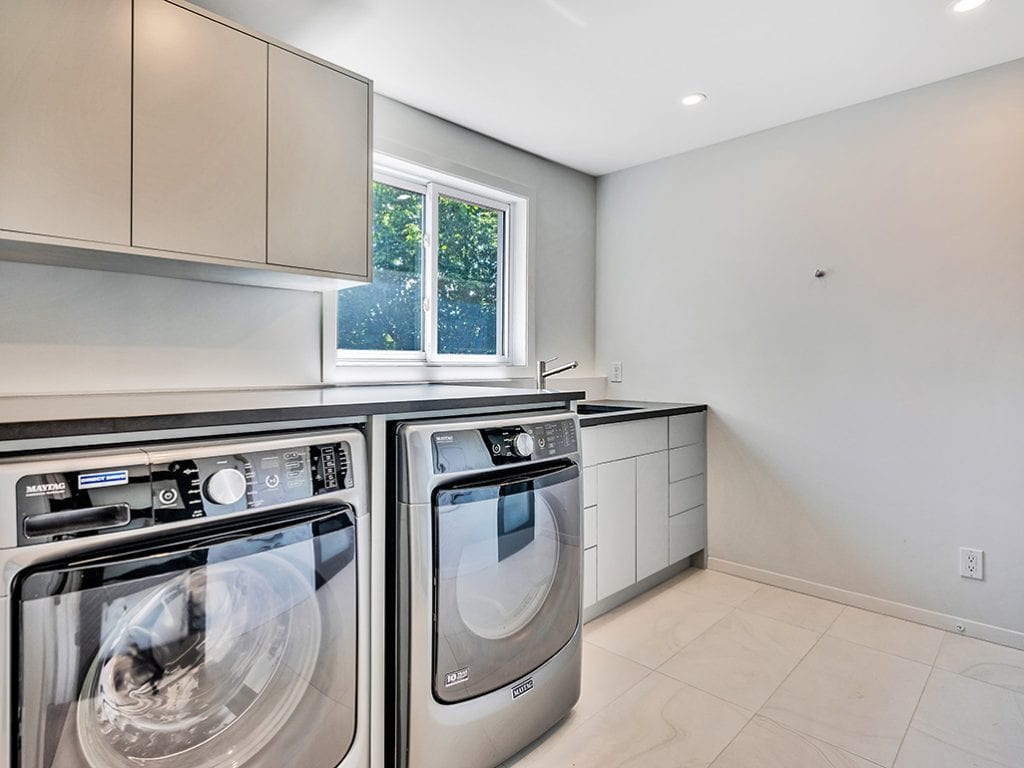 The laundry room was moved to the second floor to open-up the main level and cut down on stair trips with dirty laundry!
Transformation complete
When the last detail was complete, nothing remained of the original dark and dated interior. 
With the main floor opened-up and walls removed, the entire flow of the home is now easy and smooth – one space transitions seamlessly into the next. New windows bring in lots of natural light. 
Warm tones for flooring bring warmth to offset the cooler white, light grey and black tones throughout.
A modern daydream!  
Patricia Liptak-Satov, OakWood, Vice President Operations. Patricia is dedicated to improving OakWood's approach and introducing new methods to ensure a responsive, customer centric company that exceeds client expectations.